Wednesday, September 12, 2012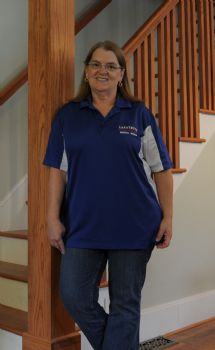 Me - 09/10/2012
Okay - For the Biggest Loser Challenge 20, I'm to set out my personal plan for the next 12 weeks! This is my before picture. While I'm pretty proud of what I have accomplished so far - 40 lbs. since January - I've got more goals. This 12 week challenge is my way to kick start the next phase of fitness for me.
Yeah, tracking my calories every day is a big YES, but I've purchased a food scale so I can be much more specific than I have been doing. I've been measuring, but not weighing - that will change.
Fitness - I've fallen short of my minutes over the last couple of months. I plan on 200-300 minutes per week. How to fit in the minutes is the big challenge! I get an hour for lunch, but it doesn't take 60 minutes to eat my meager lunch! I have mapped out (literally - cause that's what I do at work - maps!) three routes that I can do in 20-30 minutes. Now these aren't runs, but they do require me to set a pace to get me moving! My long workouts on Saturdays will add another 90-120 minutes to my weekly minutes. I have 4 more weeks until my very first ever attempt at a half marathon and then I'll start again, since I'm planning to participate in another HM in March 2013. My stationary bicycle allows me some cross-training minutes. I also intent to get up 30 minutes earlier 3 days per week to do strength training. One of the areas I want to work on most is my waist. I plan on targeting my waist for loss of inches so I have a healthier waist/hip ratio than I do now. Sit-ups and exercises that work my waist and abs are on my list! If anyone has some specifics to share - I'm open to suggestions!
I've already been making my shopping list for my weekly trips to make healthier choices for myself and my family. My biggest issue with food is impromptu meals out, whether at the office or at home. Sometimes our schedules are so full with everyone going in different directions, it's a challenge to get a meal in, let alone a healthy one. My plan is to make at least one healthy slow cooker meal that we can use as an "emergency" meal for our super-busy days, so there are no excuses to eat out.
My reward for completing the 12 week challenge successfully is a Garmin Forerunner I've been wanting! Along the way, I plan on celebrating smaller accomplishments with smaller rewards: a sweater I've wanted, a new orchid for my collection, and a manicure!
That's pretty much my plan. I'll keep on keeping on! Stop back in 12 weeks and see my "after" pic.