At 131.5 pounds, as of today I'm technically within my maintenance range (of 128-132) for the first time. This is my monthly photo, the first one that shows the "new me":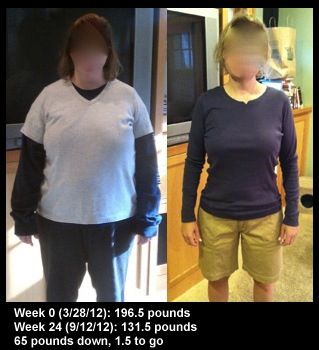 I'm not quite to my magic number of 130, and given that I'm slowly shifting into maintenance mode, it might still be awhile until I get there, even though it's only a pound and a half. I'm actually expecting to bounce up a bit, now that my muscles are storing glycogen from the weight training program I just started.
But that kind of mental back-and-forth is a relic of my weight obsession during this weight loss process. Now that I'm transitioning to maintenance, I'm trying to remember that the reason why I wanted to lose the weight is so that I could LIVE more fully, and that involves more than going into emotional contortions over my weight! Not that monitoring the scale isn't important for weight management--if you've read my blogs on maintenance planning you know I take it very seriously.
But what I want to do is keep my eye on the prize: being (and staying) healthy and fit. And I'm there! Today I ran 9 miles and LOVED it. Tonight I'm preparing a crock pot full of steel cut oats for healthy homemade apple cinnamon oatmeal. Tomorrow I'm a parent volunteer at my kids' running club. Tomorrow night I'm making roasted root vegetables for dinner. The day after that, I'm chaperoning a field trip which I never would have been able to do before because I wouldn't have been able to keep up. Before I go, I'll run 6 miles and I'll lift weights for 40 minutes. I have a meeting this weekend with a friend, but instead of going out for coffee and donuts, we're going to go on a walk-and-talk instead.
It feels so amazing to have the energy to take the stairs two at a time, or to charge up a hill when I'm running, or to hop up on the counter to reach something from a high cupboard (yes, I'm 5'3"!). Just the everyday bounce in my step is such a gift, along with the positivity, can-do energy, and extra boost I have every day. Back when I was 196.5 pounds, everything felt like an effort or a struggle, like I was swimming upstream all the time. I'll never let that happen to myself again; this new life I lead is too precious.
The change in my habits and my outlook is what means I've arrived in my new "home." Life has changed, and it feels good. So good! That I know.