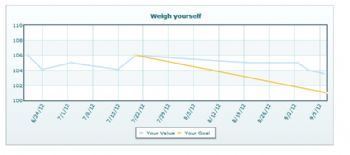 It's quite hard to see with the images reduced in size like that, but,
The top is a page I made for my facebook banner, and the lower is my weight journey since joining spark.
Starting at 106kg (233lb) down to 103 quite quickly with Jillian Michaels Body Revolution. I was then injured and unable to exercise.. and then I got depressed and gave up for a bit bringing it back up to 106. Near the end, it starts to fall off again - thats when I have my personal trainer, aqua fit etc.. and right at the very end its dropping off sharply again because, I've returned to good old Body Revolution again :)
As you can see the yellow line is the goal weight, this is set at I THINK 2pounds/1kg a week. I'm not too bothered by not reaching it.. It is still the goal tho.
Um... yeah.. weight loss has been a struggle for me, this chart is over four months! its forever... I ended up getting two sets of scales, and measuring and then I thought,.. that's not fun.. why not just try to do 2 hours of exercise a day and be happy. lol.
then I wouldn't have to measure.
I do recall..some years ago getting down to 86 kgs, (189 lb) an d not being able to lose any extra and i was doing 5 hours a day! But it was probably a plateau.
Anyway....
I feel as tho I'm starting to get some traction now.. the skin on my face feels incredible :) my arms are smaller, im definetly fitter. I remember doing day 1 of body revolution and being in agonnnnyyy... this time i was only sore in the bicycle exercise :)
Ok! things to do! thanks for stopping by :D
So officially, I have lost 5lbs!
Better than nothing and better than giving up!!! :D