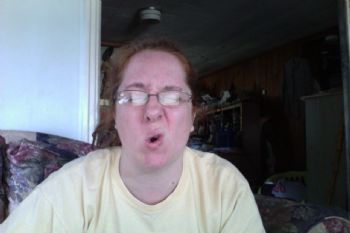 Well, yesterday at boot camp, I really busted my butt. I did some serious full-body lifting, kettlebells, squats, squat jumps, and more fun stuff at the direction of the trainer teaching the class.
I woke up fairly sore this morning... but I figured, hey, I need to go to the gym and work some of this out.
BIG mistake.
I'm in a lot of pain right now. Not the "ow I've hurt myself" pain, but definitely "I've pushed myself too far" pain. I've taken ibuprofen (what usually takes care of it for me) but it's barely put a dent in it. I think I would have been okay with just cardio, but the problem? More squats! Gah. He KNEW I just did that yesterday.
I was too proud to stop, so I went ahead and finished up the class. At least the ab portion was tolerable!
Sometimes, my own pride and sense of competition gets the better of me. I will admit, I'm a little addicted to the pain... while it sucks, it's kinda a mark of pride to hurt. I like to hurt after a good workout. So I'm a weirdo and a bit of a masochist. ;) I love the feeling while I'm working out, that rolling burn, and I love the soreness the day after that's the mark of a particularly challenging or new workout.
This, however, is a bit much, even for me. It even hurts to sit down on the toilet! Fortunately, I do have some anti-inflammatory left from my doctor, I'm going to take that, get some hot tea on, try to keep moving (don't worry, just walking around my very small house) to keep the stiffness from setting in.
And you'll be proud of me... I've already told the trainer that I would NOT be there for tomorrow's boot camp. Even I know when I've had enough, eventually! I may be able to aim for the Saturday class. We'll see how I feel by then.
In the mean time, laugh at my distress, for I am a big old dummy.