Tuesday, September 11, 2012
I just finished reading this quote during my daily check-in with SparkCoach: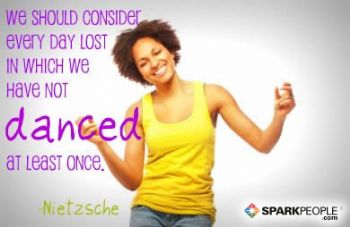 Do you believe in coincidence? I was thinking today on my walk about what I want to do as I get closer and closer to my goal weight. I see myself in a white or red bikini on a beach with a big smile on my face. I see lots more laughter and healthy relationships in my life. I see fun shopping trips buying clothes based on what I want and not based on my size. And, I see myself dancing more again. Taking ballroom and hiphop and jazz classes. I used to compete. I was good at it. It was in my blood and I miss the strength and flexibility my body had, the joy and freedom I felt. This is my long term goal. To be a dancer again. To get my dancer's body back and maybe not compete but just have fun and appreciate my healthy, fit body!