30 weeks into this pregnancy, and have a mentioned yet how things keep getting harder? Yep, but I'm still perfectly capable of getting up and moving though.
Don't get me wrong, sometimes I pack too much into a day and spend the following day doing absolutely nothing, but in reality I'm doing nothing because I've overdid it.
That's kind of become my theme, pushing too hard I guess, but I am in tune with my body and I generally know when I need to stop, it just comes down to not being so stubborn at times. ;)
We can throw out excuse after excuse, and pregnancy is pretty much considered the ULTIMATE excuse.... but I'm on a mission. I really want to women to change how they view pregnancy. After two unhealthy pregnancies I feel like I have done INCREDIBLE this time, but there are plenty of women who have even more healthy pregnancies than myself.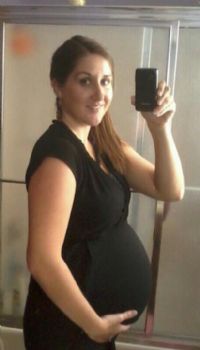 (29 weeks)
I completely understand that some women are SICK a LOT, and others may have complications or even be put on bed rest. I'm not so much talking about them, in their cases the best thing they can do is rest as much as possible so both her and baby are healthy.
I'm talking about EVERYONE else.
I'm tired of hearing "Well, she's pregnant so she shouldn't blah blah" yes there are some things you shouldn't do, doesn't mean you can't do anything!
"I'm too tired" I know all about that first trimester exhausted stage, and actually, getting up and moving will make you feel more energetic. There were a few times I MADE myself get up and do something and I felt SO much better.
"Don't feel bad about eating that, you're pregnant!" All in moderation my friends, even while expecting. Not just for YOUR body, but for baby as well.
Women worry about swelling... unlike my other pregnancies, this time I'm much more careful about my sodium intake, I drink more water(no, drinking more water isn't going to make it worse, it actually helps), and I move regularly. Yes you can overdo it and get some swelling, you can also get it from sitting around too much! Actually, the only swelling I've had so far was in my feet after sitting in the car for HOURS while heading to and from the beach.
I feel almost silly not realizing all this before now, but when you make a LIFESTYLE change, you pay closer attention, you actually read up on it, and you do it.
I am active in this pregnancy for myself, for baby, and hopefully to show it can, and should be done. I know people think I'm crazy when they see me, they also thought I was crazy before when I would run all those miles and zumba as much as possible. If it gets their attention, maybe it will make them think... "If SHE can do it, what's my excuse?" or... "SHE'S doing it, I should at least try"
I went to Zumba last Saturday morning and I have to modify a lot, but I still do it, and I have a BLAST! Halfway through the class I got the goosebumps and just started smiling because I felt so good! I know it made an impression as well, can't tell you how many times those ladies turned and looked at me to see if I was doing the moves.
Today... with 9 weeks to go.... I mowed the yard. I didn't have to... Actually my husband probably would have this evening, but I wanted to. It's so gorgeous outside, I wanted to be out and be active as well as productive. Why not mow?? Hardest part was getting the dang thing started, after 10 minutes of pulling that cord I got it, and I mowed front and back. It felt great! As I started to finish, a lady came out and started mowing her lawn. Who knows... maybe she was going to do it anyway, but what if, WHAT IF... she saw me and thought "what's my excuse?"
Peeps, be active, for you, for your family, and to give people a reason get out and do it too!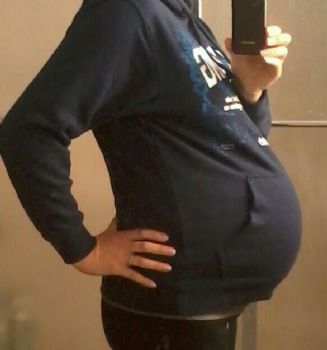 (30 weeks- Doesn't fit like it used to but I'm excited about hoodie season anyway!)
Rock it out guys!
Much love
Em