...of writing this blog.
It's been like The 3 Stooges 'round these parts this week. First, my dog apparently whacked his tail on something ("happy tail") and then proceeded to chew off the tip of his tail. Normally I try to treat simple stuff myself (I am a vet tech) but it was clear he needed antibiotics. So, we went to the vet on Friday. He now has a giant cone of shame and a bandage on his tail and looks rather pathetic. Now we just need to hope it heals up well and that he doesn't end up needing amputation.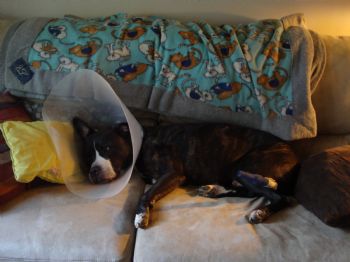 Poor Dugan...the best treatment for happy tail is to put a giant cone on their head and make them very sad...
I went to Jiu Jitsu right afterwards. I proceeded to stub my pinky toe on the mat during practice. It really hurt, but pain is kind of par for the course in Jiu Jitsu. Well, it continued to hurt enough that I stopped rolling (sparring). Later that day, my toe turned a lovely shade of violet, followed by the surrounding area turning blue.
I started icing it right away and it doesn't hurt too bad. I did figure it was wise to hold off on doing Jiu Jitsu on Saturday, although I still went to the gym and did power lifting. I had to laugh because I was trying to be so careful with my foot and wore shoes during lifting, and then took off my shoes before stepping onto the mat to chat with the guys. The first thing that happened was that one of the guys rolled onto my foot. In any case, the bruising has gone down significantly and it is only mildly sore with certain movements. I am hoping to do Jiu Jitsu Tuesday (my birthday), and it should be okay, although I'll probably wear my wrestling shoes.
I went and watched some of my gym pals compete at a Jiu Jitsu competition last night. It's always fun to hang out with them outside of the gym, get to know them a bit better. My best friend Kristina came with and watched as well. The guys told me I should beef up the story about my foot injury, maybe say that I was fighting off ninja thugs and hurt it while doing an awesome move. Hmmm, it does sound better than, "I stubbed my toe on the mat..."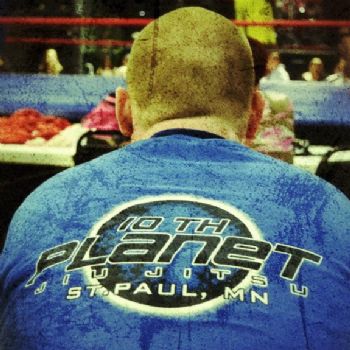 One of our guys representin' at competition on Saturday.
I don't mean to whine--it was just an entertainingly accident-prone week. This week was decent eating and exercise-wise. I did have a couple of days of PMS-charged eating that I regret a bit, but I got a grip and got back to normal eating pretty quickly. Got in some good workouts, got in 2 strength training sessions, got in my planned cardio, and some good yoga and stretching. The routine feels great.
My hope for this week is to have an enjoyable birthday week with friends and family, and to not get injured or let anyone else get hurt! We'll see how it goes. I really hope you didn't get injured while reading this blog!