Sunday, September 09, 2012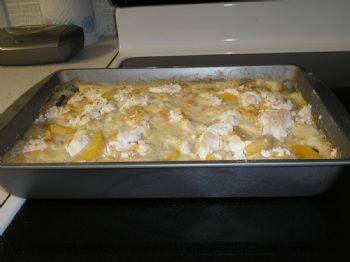 Frozen berries, dry cake mix, and 1 can of sprite. 350 for 35 min, yummy cobbler
Ingredients
Two 16-oz bags frozen mixed berries (I used Peaches)
1 box white cake mix (no pudding) (I used Betty Crocker Super Moist White Cake Mix)
1 can of diet 7-up or sierra mist (clear soda) (I used Zero Sprite)
Instructions
Place frozen fruit in a 9x13 baking dish. Add dry cake mix over the top. Pour soda slowly over cake mix. DO NOT stir the cake mix and the pop - this will give you a 'crust'. If you stir the two, you will have a cake like topping.
Bake 350 for 45-50 min.
Serves 16 (1/3 cup serving); 4 PointsPlus (Weight Watchers)
I made this today for my weekly Sunday visit to my mom's.