I read an SP article recently about how y0u should throw away your "skinny jeans." Those jeans that you kept in your closet because you were going to fit into them again one day. And the writer said that you shouldn't have them, that you'll be more free without them.
And I said BULL$#!+.
Yeah. That's right. I, CJ, said that SP article was full of it. Poop, that is. It was full of poop. Like, a whole ton of elephant poop.
Why is it garbage? Well...
My junior year of college, I was roommates with this girl Kyle. I say roommate, but she lived in her boyfriend's room the whole year. I think she slept in her bed three nights total. But we were friends(ish), and she was supportive when my junior-year boyfriend broke up with me, and I was there for her when her boyfriend was a jerk. You know, friendly, supportive, just didn't see each other much. Well, that year she lost weight, and she gave me a pair of navy blue plaid American Eagle bermuda shorts. Super cute shorts. "I don't fit into these anymore, they're too big--take them! They might fight you!" They're a size 10. Well, they didn't fit, but I decided to hold onto them because, maybe, they would one day.
Well, I didn't make any efforts to lose weight for years, and they've sat in my closet all that time. When I moved, they moved with me. Up to MD. Down to NC. Back up to MD. To my apartment when I was teaching. Back to my parents house. Now they are here with me in this apartment, and in this apartment I finally, LEGITIMATELY, got "the Spark" to get fit.
First I lost ten pounds. I tried on my shorts. They fit!!!err.......well....I couldn't close the button, but close! So close!
Fifteen pounds. I tried on my shorts. The button closed! But...ah... stuffed sausage effect.
Now?
Today?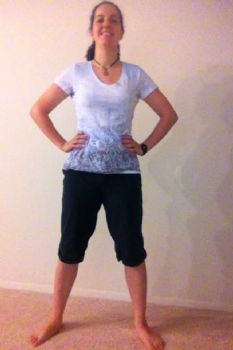 BAM.
BELLY SHOT.
SIDE SHOT.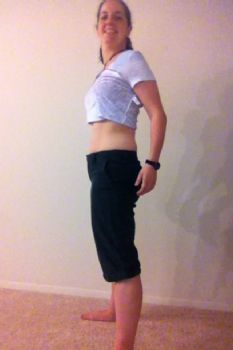 PROUD CHEST. PROUD FOR FITTING INTO VICTORY PANTS.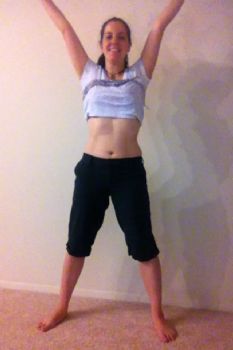 V. V FOR VICTORY.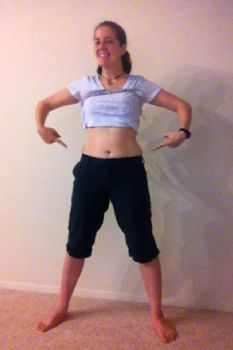 LOOK. LOOK AT MY VICTORY PANTS.
VICTORY.
PANTS.
VICTORY PANTS.
I am sitting in them. Right now. I am sitting and they are SO COMFY. And so CUTE.
So those skinny jeans? Totally worth it. Especially since I am KIND of hoping to be a size 8 one day, which will make me a LITTLE sad to lose these victory pants.
But only a little.

HAVE A BEAUTIFUL DAY YOU BEAUTIFUL PEOPLE. I AM GOING TO NOW FROLIC AROUND IN MY VICTORY PANTS.