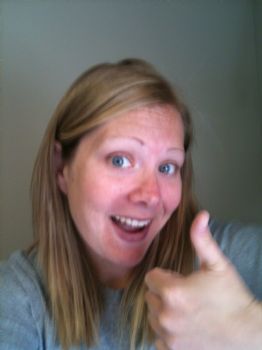 Here we go...
This is the last time...
I'm going to keep it off this time...
Yuuuup. It's time. I have officially had enough of being the fat girl. I don't like what I see in the mirror anymore. I HATE being tired and my legs aching all of the time. It's time to make a change. I am also SICK of Dr. Oz and every other schmuck out there telling me to eat weird, off the wall, crazy food that "blasts belly fat" and to drink crazy concoctions to "speed up your metabolism." I'm over it. There is only one way to do those things and it's high time that I stuck to it.
I'm a day late with starting my blog, but that's ok. Better late than never. So, here it is, I'm laying out for the web to see. My currents, my short term goals, long term goals and everything along the way. I am well aware that this is not an easy or quick process, but by golly, I'm ready.
Let's start with my current weight and measurements ( well, weight because I left my measurements at work :(. I'll get those in tomorrow's blog.
Height: 5'7
Weight: *gasp* I have never said this number out loud or written it down. It's been a number that I have kept to myself for a VERY long time. 220. There, I said it. It's out there for everyone to see. Although, in my defense, I carry the weight extremely well.
Short Term Goal(s):
**Size 14 by October...I'm an 18 or a 16 now, so I think that is managable. Honestly, I haven't bought new jeans since the first time I lost the weight, in 2010, which was the first time that I didn't have to buy jeans in the "plus size" section. Now that was an accomplishment.
**Run/Walk a 5K with my son. Short term because it can be done in 6 weeks if I try REALLY hard.
**Weigh less than 200 lbs
Long Term Goals:
**Do a Triathalon
**Be an inspiration to someone
**Not have to ask, "Do these jeans make my butt look big?"
Day 1 & 2 haven't been bad. I think I had gotten to the point to where I was just ready. So, I have embraced it and not thought anything else about it. It's a way of life, I shouldn't have to think about it. I should just be able to do it. Eating right and being active should be a part of my everyday routine.
Starting tomorrow, I will post what I eat and what activity(ies) I do to burn the fat. This is a new thing for me, but if just one person reads this and thinks, "Hey, if she can do it, I can do it," then I have fullfilled a long term goal :)
So...may the odds be ever in my favor!