Color Me Rad San Jose
Sunday, September 02, 2012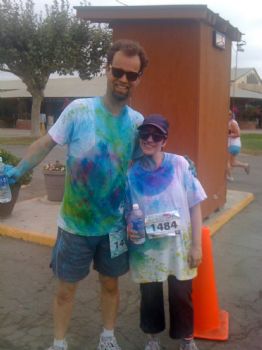 My brother came over early and we all walked over (about 1.5 miles). Certainly glad we did because there were a ton of cars lined up to get in.
I got in line at the 3 portapotties. No toilet paper or water to wash your hands....this run is not starting off well.
My husband and I were signed up for the first wave at 9am so we headed over to the start. It was sooooo crowded. I couldn't see anything in that mass of white t-shirts. They didn't specify where we were to stand and which direction we were running until it was totally packed. Not cool in my book. FInally they started us and off we went over the dirt and rocks. There were a lot of rocks of all sizes on this course. I had intended to do a Galloway 60 second run and 30 second walk ratio but I never got chance to turn on my GymBoss. I ended up running most of it with a few walk breaks when it got too congested. After about the first mile (I think) they had the first powdered color area and there were volunteers throwing handfuls of colors at us. Run a little more and then another station. There were 3 powdered areas and 2 with liquid color that was shot out of paint guns. I'm certainly glad they gave us sunglasses...it helped keep the color out.
Along the way I managed to turn my wonky ankle on a rock..it hurt a lot when I did it but I managed to walk it off...I think. Feels a little stiff and sore today but not too bad.
I was definitely glad to hit the finish line.
I joined my brother (who didn't run but held my jacket and took this pic) and husband. We got a nice colored shot. Then walked home. Got some weird looks on the way back. Stopped at Seattle's Best Coffee for a cup and then showered. Then off to breakfast.
I don't think I'd do another one again. I guess I'm just not into people hurling color at me but I'm glad I did one.