Good bye Kiwi
Saturday, September 01, 2012
It's with a VERY heavy heart that I have to share that my son Jonathan's MOST loved bird, Kiwi, died today. And the tragedy of it all is that Jonathan was 'snuggling' with him while he was reading a book, fell asleep, rolled on Kiwi and he suffocated. Jonathan is a MESS with grief! And Mary is SO sad! Jonathan had told Mary [because she loved Kiwi probably as much as he did] that when he left for school that Kiwi would be her sole responsibility. She is in the tub soaking after a LONG cry in my arms. And, although Jonathan is 18, and TRYING to hold back the tears, I can see the red in his eyes from crying.
My DEAREST friend, Crystle from Texas, just sent me this beautiful picture that she framed of Jonathan's bird.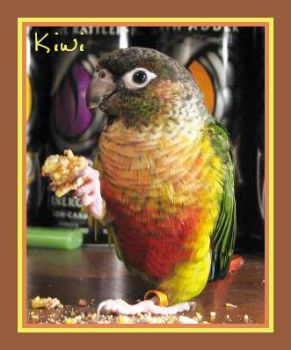 Here is another shot:
Thanks for keeping our family in your thoughts and prayers tonight.