I hopped on the scale this morning and there it was... finally... a 1.5Kg/3.3lbs loss since 1st August (on top of the 3Kg/6.6lbs lost at the end of July)! It might seem like nothing, but I have waited for this for many years Ė 6 weeks of weight loss with no overeating, no binge eating... So, today is a victory, and I am savoring it.
However, today is just the consequence of lots of fights and little non-scale victories over the last few years Ė especially over the last year and a half. I could never have lost weight without them. And I know I am on the right path because this weight loss isnít a coincidence, it happens as a consequence of all the hard work put into trying to understand WHY I kept eating too much.
This was me in November 2007...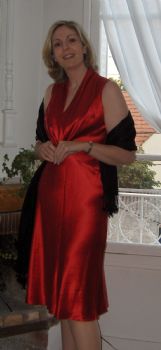 ... and this was me a few weeks ago, 40 Kg/88lbs heavier (yes, the most unflattering picture of me ever, but it is important to face the truth!)...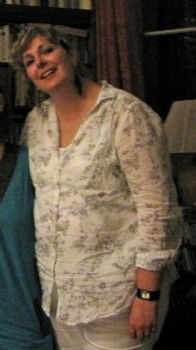 Honestly, even I can't recognize myself sometimes! If I see myself in a shop window, most of the time I don't realize it is me. :(
I wonít tell you my story all over again... But if you havenít been reading my blogs for long, here is what has worked for me so far...
- Seeing a nutritionist in January 2011 who told me she couldnít help me and I needed to see a therapist. That was the most helpful advice I have received in all my life. I believe this nutritionist saved my life.
- Saying NO to diets for ever and YES to a healthy lifestyle.
- Joining Sparkpeople at the end of January 2011 Ė tracking food and exercise, reading great informative articles and making Sparkfriends... I am so thankful for all the support I get here!!! I just love it when someone writes a comment or a note to me where I see we are in the same boat, we are facing exactly the same difficulties and we understand each other... It feels so encouraging! Thank you!
- Starting psychotherapy in March 2011 and seeing my wonderful therapist every week since.
- Breaking free from a very toxic and damaging family relationship in April 2011.
www.sparkpeople.com/mypa
ge_public_journal_individu
al.asp?blog_id=4184980
- Falling in love with hiking in July 2011 (and rediscovering photography in the process, which is bringing so much to my soul... as well as all your comments on my blogs!).
- Understanding why I binge ate at the end of January 2012 (this was a major step as I never went back to binge eating since!)
www.sparkpeople.com/mypa
ge_public_journal_individu
al.asp?blog_id=4778472
- Understanding why I overate on 20th July 2012 (another major step as I havenít overeaten since... I am not saying I never will, but 6 weeks with no overeating is unheard of for me in the last 5 years!)
www.sparkpeople.com/mypa
ge_public_journal_individu
al.asp?blog_id=4994195
So, what has changed in August?
Nothing. I have kept the healthy routine I have developed since joining SP Ė no diet and no food is forbidden (in sensible quantities), doing lots of exercising I love, and tracking everything! What is making all the difference is that I donít suffer from binge nor overeating anymore, and that is thanks to all the hard work done in therapy. I thought being free from binge eating was enough, but no, I also needed to tackle overeating... Now that I am at last successful in that fight, I can look at a brighter future (no, I donít think slim people are happier, some of them are miserable, but I do believe that I was reaching the stage when it becomes difficult and painful to move and do things, and that would have become worse and worse with more weight gain!).
Someone told me a few weeks ago all I had to do was to eat less. Ah yes. This person is very lucky to never have suffered from binge eating. All of you who suffer from it know how terrible that is. You donít want to eat. You are ruining your life by eating large quantities (thanks to SPís wonderful tracker, I noticed I sometimes ate 10,000 calories in one single evening!). But you still do it, and keep doing it. Sometimes your will power is enough to overcome it. But sometimes what is unsolved in you is so huge it takes professional help to understand why and break free.
We are all different, but this is what is working for me. This is all I can share about. :)
One last thing... It took me 5 years to gain all this weight, and I am not going to lose it in 6 months or 1 year! I know it, and I am fine with it. Actually, if I hadnít lost weight at all this month, that would have been OK with me. It has been so rare to have months with no weight gain in the last 5 years, that no weight gain alone is a celebration!
But most importantly, binge eating and overeating is about so much more than weight (the weight gain is only a symptom)! And I am getting free from this addiction! Wow, believe me, this is the best reward EVER! It feels WONDERFUL.
Hmmm that, and being able one day to do my beloved hikes with less pain from having to carry my heavy body! :)