Okay - I was going to post a blog about my meditating the other night. Instead, I'm going to post about the past 48 hours.
Starting Wednesday night, I made some poor choices. I took my sleeping pill, got upset about something and proceeded to eat an ear of corn, a bunch of potato chips and some icecream.
That is my first offical fall off the wagon since my sparkstart.
Yesterday, I felt awful. I hadn't slept well, had to get up early and go in the office and there was a breakfast potluck. I didn't go crazy but I also ate things that I wouldn't have the past 2 weeks.
I was reflecting on these past 36 hours and realized that whatever the "issue" is - that's not the problem - my REACTION and my ATTITUDE - those are the defining key characteristics for this process. The good part is - I'm recognizing this. I've grabbed my mental compass, put myself back on north and I'm continuing forward. My fall wasn't the end - it wasn't tragic - it was a lesson and I better get up and get moving so I can just move on from it.
This is not an overnight process. I'm not going to lose 9 pounds every 2 weeks. Some weeks, I might not lose anything. Most weeks, I'm going to lose at least a pound. Some weeks I'll lose 2 pounds. That's okay. That's okay.
One of the questions I've asked my children when they were growing up is, "Are you acting or are you reacting" to a situation? Chances are - if you're reacting - then you're spinning your wheels in the long run. If you're acting, that means you have a plan and a goal. That's important. Solutions - that's important.
SparkPeople is our action. We are taking an active part in our journey. We're not over doing exercise as a reaction to gaining weight, we're not purging our bodies as a reaction to over eating - we are taking the steps for a healthy life.
We deserve to be healthy. We have to act now to do that.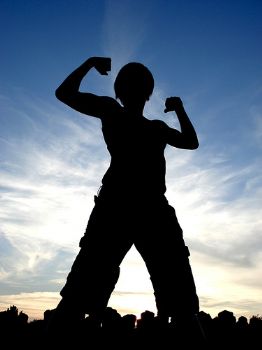 I can. I will. I am!
Now I'm off to go kick-boxing.