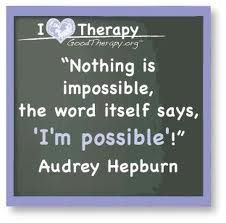 In life, we need to look at the endless possibilities. So many of us sell ourselves short of our full potential. We stop when it becomes...uncomfortable. Familiarity is where most people stay comfortable. But change is good!
Did you stop learning when you finished school? Or did you continue to grow, become wiser? I know that I have learned so many things in the 23 years I have been out of school. So if the mind is able to continue to learn, why can't it learn to adapt?
Adapting to change is a challenge. Some people don't like challenge. I have seen this so many times in the work environment, when the employer decides to standardize procedures, so that everyone is doing the same method to get the same results. The employees moan and groan because they don't like change, they like to do it their way.
Part of growing and seeing the endless possibilities, is seeing how to do something from someone else's point of view. Leaving that black and white area, and moving into the gray area. The same thing applies to changes in fitness, weight loss and goals.
After we have eaten a certain way for so many years, or sat on the couch watching television or playing on the computer, it is hard to step outside of the box. But if you do it, you will find that they gray area can be pretty cool and exciting. Instead of watching a football game, get out and play a game of flag football with your friends. Instead of watching a bowling tournament, join a league. Or instead of watching the food network, get up and make a healthy recipe.
Putting action into our lives, instead of entertaining ourselves with someone else's actions, is an easy way of establishing a healthy lifestyle. If you have a kid in school that is on the track team, join him or her for a workout. It is bonding and healthy. Or if you have a little one on a soccer team, go out and kick the ball for a while, teach them some moves.
Another thing that you can share with your children, and learn and grow from, is goal setting. Teach them how to set goals, so that they already have that established before adulthood. This teaches them to prioritize and work toward something. The futuristic images that are portrayed on the big screen don't show overweight people. But if we turn to technology and don't get involved with active lifestyles, those images are going to be completely different. There will be a population of overweight, unhealthy people sitting at computers.
People have adapted to the use of computers in our world. Now they need to adapt to become like our ancestors, active. Proactive changes are good for the mind, body and even our communities. Get out, get involved and become a better, healthier you!