You know what? I've lost 74 lbs!!!
Sometimes it is hard to recognize and appreciate that success and progress in myself. Why? Because I STILL have 66 lbs to go to get to what may be my ideal weight of 160. So sometimes I am disappointed and frustrated about the extra fat I have.. the belly fat that hangs like an apron, the thick thighs, and big upper arms I have. And when I focus on that, I feel and see that. I need to see the progress and appreciate it and bring more of that success with a more positive mindset.
I am down from 300 lbs to 226 lbs!!! That is amazing!!! I need to stop feeling overwhelmed by how much farther I have to go.. and really appreciate how far I have come.
I cannot lose 66 lbs in a day. I can only lose one lb. at a time.. One walk at a time.. one dance at a time. One step at a time. And they'll add up and eventually burn 3500 calories and get me down 1 more lb. at a time. And you, too. One step at a time, my friends. We can do it!
Nixy (XPhoenix) posted on her FB page about her sister-in-law who has lost 180 lbs and doesn't see it.. perhaps because she still has a lot left to go.. but to others it is really obvious and astonishing. It made me think about myself and how lately I've been annoyed with myself because I still feel fat and think I look really fat.. which I do in some ways, but OMG.. this is THE smallest I've ever been as an adult..
I am the HEALTHIEST I've ever been as an adult. I am lighter and leaner than I've ever been. And that is something to crow about. ::crows like Peter Pan:: - "er RRR rr RRR!!"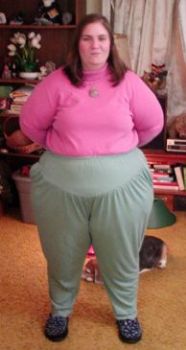 Before at 300 lbs.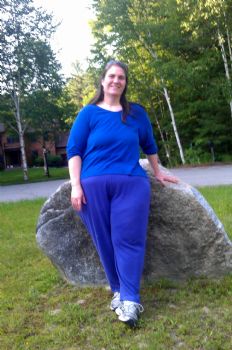 After at 230 lbs (July, 2012) I'll get a new one taken soon!
Update - I just realized I had my math wrong.. I said I was 68 lbs away from 160, but at 226, I'm only 66 lbs away, so that's nice.
(Did you like this post? Please click the "I liked it" button. I would love to get my first Most Popular Blog post!! I've been here daily and blogging daily since last July.. and a member since 2006!)