Wednesday, August 29, 2012
So since I managed to strain both of my knees lcl's (outer knee muscles) I've been babying them terribly. Doing yoga and weight work along with doing the exercises recommended to stretch my knees, ankles & hips and strengthen my knees. And I'm happy to report the pain is pretty much gone as long as I do my stretches a couple of times a day and I can walk, normal everyday, without pain or my knees threatening to buckle if I don't have my supports on. If everything goes as planned I can take up my cardio again after next week as long as I take a day off in between.
Now I know I cannot get complacent in proper stretching before and after my exercising which is what I had done at the start of my program's second week, it contributed to both my knees paying the price. And I have a little more in my face realization that all parts of the body are connected, if I was only focusing on my knees I'd still have pain because I would be ignoring the top and bottom of the muscles that my knees use. Just part of all the little bits of health information I've known for years but attributed no importance to because it wasn't important to me. How silly I feel at myself sometimes for causing my own issues when not paying attention to the details of being human.
Anyway, hope everyone is having a good week

This deer was one of many at Jefferson Barracks Cemetery when my brother, aunt and I visited my grandfather's grave today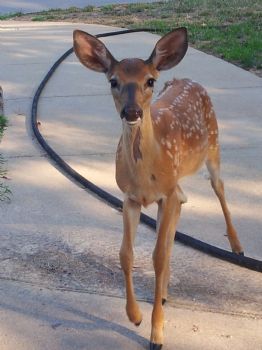 so cute