Wednesday, August 29, 2012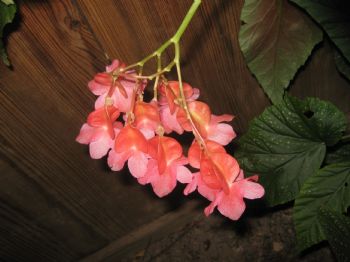 The picture is an angelwing begonia blossom..and they bloom almost all year round...they are called angel wings as the leaves look like angel wings..I started my one tiny plant from a cutting my dear MIL gave me years ago and she has been dead now for 7 years..I don't have that good of a green thumb but hubby took after his mom and brought this small cutting into many many many plants later...as he cuts them back each year he plants the cuttings in other pots and then we give away the plants once they have established..These really are about one of the only begonias I like..most are so messy I think.
Well going for several walks today and watching the weather channel closely hoping for some rain from the hurricane. Someone asked what section of the coutnry we live in..first we live in the USA and smack dab in the center about...We are close to the border of Texas and Oklahoma...we live in the Ouachita (pronounced Wash-i-taw) mountains..we don't get much snow but have gotten up to 12 inches one year which is once in a blue moon (by the way Friday is a blue moon)...but mostly we get ice cold rain or ice and sleet in the winter...we are considered part of the southern states but some classify us as being southeast and others south west but really it is more like south central..We are in what is called tonado alley as we do get some in the spring..And living where we live, we don't think the weather stations have good radar in our area either..
On to other things....I'm getting another walk in soon and then have art guild board meeting to attend around 1. I had thought it was last week but apparently they didn't let anyone know they had postponed it to today..so wasn't prepared but I will attend..they have postponed the program meeting for a week from next Monday due to Labor Day being this coming Monday..My other art guild meets next Tuesday night. They do keep me active.
Today I'm making a stab at organizing my studio again...seems like I'm always doing this..and going to be a busy computer day.