Wednesday, August 29, 2012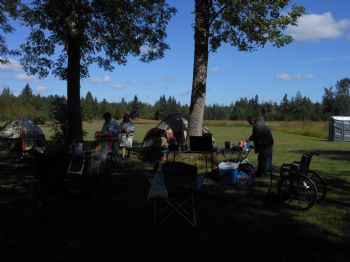 OK. I went to TBI CAMP. Now, I love to camp. But this had me SPOOKED. I don't do well when I have not been somewhere before. I was under the impression it would be LOUD which B4TBI would have been dandy, but NOW? NOPE. Hauling my giant security blanket (aka THE RECYCLED INN, my vintage 1969 Aladdin trailer), is a challenge... it is hard WORK and I was unsure if I would have power. I did. It was NOT loud. It was DANGED COLD AT NIGHT but I was dry (nananananannnnnnnnnaaaaaaana) and it was FUN. I didn't know most of the people, but it was not a large group, so I was OK.
My eating? I was OK. Not perfect, but I loaded the trailer with UBBER-HEALTHY stuff. I had ONE marshmallow! NO sommores. I ate what was there... they had grilled salmon! I did pretty well.
Working out? Not that much. My ribs and neck still are achy from the driving, and I walked thru the zoo (my g-daughter Keybug turned 2 while there, so I went to the zoo with the kiddos) and did some walking with friends... but nothing really outstanding.
NOW. Will I go again? YES. And, I want to be involved. Not to better it, because it was GREAT. I would like to see it be more accurately publicized. It was touted as Camp Rock, and that was why I was fearful--afraid that there would be outlandish rock music all the time. We had two songs on a keyboard! LOL No biggy. But the STRESS that is involved in that whole FEAR factor, is huge.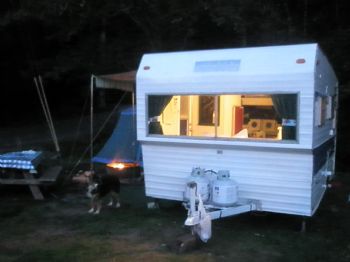 Here is my home away from home. It is not perfect. It is 43 years young. It is cute as a bug inside... and it is mine.