One thing is for certain with weight loss and improving your health and thatís the need for motivation. You have to find it and keep it.
When youíve got it, everything comes easily. Eating with your calories is ďa piece of cakeĒ. Going out for that walk or jog after work? No problem.
And when you donít? Not so much.
This isnít new to me. Iíve always known it and I realize it isnít exactly a secret.
What is different for me this time is that Iíve FINALLY learned the key to STAYING MOTIVATED.
In the past, when I lost my motivation to stick with ďthe programĒ, I would ďfall off the wagonĒ and gain weight. Iíd blog about needing to regain my mojo, praying that someone out there in Sparkland would turn up with some miracle motivator. When that didnít happen, I started internally beating myself up, which literally went on for a couple of years. And, all that time, I was packing on the pounds. I was seeking external motivation and not taking responsibility for motivating myself.
Now, Iím a fairly (ok, VERY) competitive person and am highly motivated by the spirit of competition. When it comes to games, I always play to win; to me, winning is fun. BUT, when it comes to weight loss, I donít find competition with others very motivating. Itís the competition with MYSELF that pushes my motivational button. Again, this isnít exactly an epiphany for me.
Like yesterday, when I had such a fast bike ride. Or today, at the gym, when I jogged my first complete mile. Those things motivate me to push myself further; to see how much better I can get. I immediately start planning my next personal challenge. Next time I jog, Iím going to try for a mile and a quarter. Or, since I know I can push my average cycling speed up to 13 mph, maybe I should try for 13.5. Maybe even sign up for an endurance bike race! You get the picture.
What I realized today is that I have the key to long-term success right in my own hands. I donít need to look outside myself to locate my misplaced mojo anymore. When I need to, I just need to dig down deep inside myself and deliver a challenge I canít resist.
The cool thing about that is I can apply this motivational technique to ALL my personal goals! And since there will always be some way in which I can improve myself (no oneís perfect, right?), I will always carry the key to my own motivation in my heart.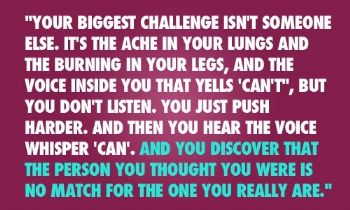 Live Lightly!