Since the end of July I have changed up my training. I had some knee issues earlier this summer/ spring which made running less desirable (even sprints) and all of the daily circuit training for an hour a day were just a bit much. So I switched up my workouts and began doing more heavy lifting earning new one rep maxes on my squat and deadlift (165# and 200# respectively) and 3 rep max on bench press (105#.)
Heavier lifts. Less reps. More efficient work in less time. I love it. My body has taken to it quite well. My knees and shoulder feel amazing. My lifts are improving daily. My muscles are growing.
The last 3 months or so my eating has been better than ever before in my whole life. My ďcheatsĒ are things like sushi (no rice), bacon or hummus. Not even anything crazy at all. Iíve been eating 5 times a day things like eggs and oatmeal at breakfast, chicken and veggies with avocado all day and bison or lean hamburger at night with veggies and oil. I have had absolutely ZERO sugar cravings (okay, during ďshark weekĒ they are easily stopped with 90% dark chocolate.) I donít count calories anymore, I just know my portions: 3 oz protein per meal, 1 T-ish fat, unlimited vegetables. My starches have included oatmeal and sweet potatoes and aside from the goat cheese in my eggs I donít even do dairy anymore. It doesnít agree with my stomach. I feel amazing.
But what didnít feel amazing was putting on a pair of shorts last weekend and barely squeezing into them. These shorts have always fit. Albeit snug at first, but that dryer-tight feeling wears off in 10 minutes or so. My legs were like sausages squeezed into these shorts and I straight up had muffin top. It wasnít pretty. Say what you want, but for me, Iím uncomfortable.
In my bikini and in my Lululemon workout gear I feel great. I loveeeeee my body. My legs have always been big Ė I was made fun of because of them all the time in middle and high school. But I think my legs are pretty amazing. Theyíve allowed me to run hundreds of miles and lift tons of weight. But not being able to fit into my clothes isnít something Iím down with and it was a serious reality check.
So itís time. Itís time to get back to doing sprints, running and circuit training. It keeps me lean. So I ran last Monday. 2.89 miles. One of my normal routes. It took me 3 minutes longer than my usual time. I felt like garbage. My legs felt like cinderblocks. I felt everything but aerodynamic. I can see why running is so hard on our joints. I donít like feeling that way. I want to be able to do anything at the drop of a hat. Additionally Iím going to do the Menís Health Urbanathalon in NYC at the end of October, which is 9 miles plus obstacles so I need to be in condition to run 9 miles.
So there it is. Iím not changing my eating whatsoever. It is GOOD. But I need just a little more cardio type activity in my life. Yes, I have factored in that I have gained some muscle. My butt is definitely higher than what it was before. Itís bigger too which Iím great with. But I just wanna see what happens when sprints and running and circuit training re-enter my life along with my heavy lifting.
Hereís my progress pics from 7.17.12, 7.23.12 and 8.23.12Ö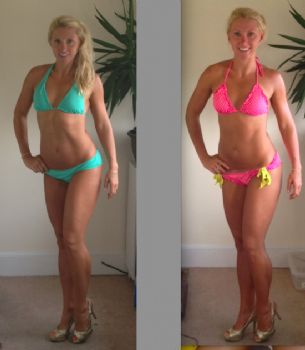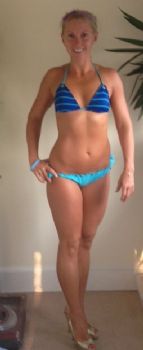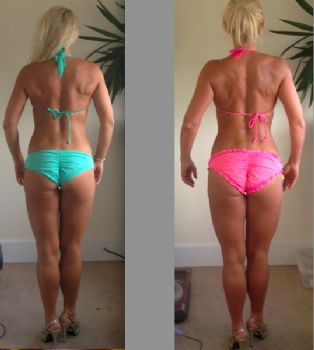 And of course, my favorite.. my traps!
Kyra,
The Get in Shape Girl