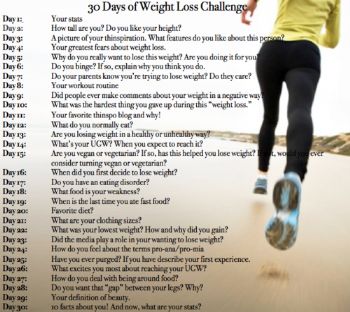 Day 8: My workout routine
Increasing my activity has been central to losing weight. I've had several goals in doing so: first, to create a greater calorie deficit, second, to become fitter and stronger and third, to have fun and pursue activities I will be able to do for the rest of my life. I've never competed in a race, but I plan to do so eventually. Currently I am training for a triathlon which I hope to complete next year at some point.
To reach these goals, I try and workout five days a week with two days of rest. I ride my new bike which I love several times a week anywhere from twenty to thirty miles averaging between a 16 and 17 mph pace. I would like to increase my speed to between 18 and 20 mph eventually and my distance to upwards of 50 miles.
I swim once or twice a week taking advantage of the lap pool at my school's student activity center. Since I have swum most of my life, I have considerable endurance. Two weeks ago I swam for 2 miles in a little over an hour, averaging about a minute per lap. My goals here are to simply increase my speed and efficiency and to strengthen my shoulders, one of which still has pain from an old gymnastics injury.
I also run, which is probably my weakest of the three. I have slowly been increasing my pace and distance. I can run one mile in under 8 and a half minutes, but that usually leaves me beat. I have run up to 5 miles and hope to run 6 soon. Normally, I run four miles at about a 10 minute per mile pace. I would eventually like to see an 8 mpm pace for 10 miles. That's my ultimate goal.
I like to add various other activities such as walking, rollerblading, going to the gym, taking classes such as Pilates, and exercise videos. Mixing it up helps keep me engaged and interested. I don't want working out to ever feel like a chore because I won't do it when the motivation wears off or life becomes overly demanding. My next workout I would like to try is spinning. They offer spinning classes at my school's gym, so it's just left up to me to gain enough courage to try it out.
If I bike twice a week, swim once a week and run twice a week, I can burn around 4500 calories. That's my goal, but I think for this school year, I am going to try and decrease that to about 3000 calories, just so I don't burn out. I'm dreading the cold weather, because so much of my exercise involves being outdoors =(
Oh, and I rarely do strength training. My mom disagrees with me about this, but I build bulky muscle. I have so much muscle left over from my gymnastics days, I will be ecstatic to lose some of my muscle mass. Of course I'd rather lose fat any day, but I'd be happy with losing most of my fat and some of my muscle. To give you an idea, my biceps are larger than my dad's (not counting fat) and have been since I was about 16. This is distressing for a young woman in her twenties. Of course I don't mind toning, particularly my abs and back since those muscles don't become bulky, but I refuse to do two days of strength training a week. Running and biking have already strengthened my thighs, calves and core quite a bit.