Hope I wasn't too subtle there...yes, it's true, I got a new bike. I wanted to give the old bike a fitting tribute on its own before bragging up the new machine. No hurt feelings and all that.
But now it's been two whole days and I just can't hold it in any longer: I REALLY LIKE MY NEW BIKE! *jumping up and down in joyful new-bike-ness*
I'm really glad I spent this whole summer on the old bike, losing weight, getting fit, and building leg muscle, because it has caused me to appreciate the smooth rideability (Is that a word? It is now!) of the new one. I had no idea how hard I'd been working just to keep moving as I pedaled along. This bike actually keeps going when I stop pedaling.
The first "real" ride I did was a route that typically takes 45 minutes each way. When I got to the turn-around point, I looked at my time, and I had cut TEN MINUTES off my time, ONE WAY. Wowee zowee. It gets me up hills easier, it shifts like a dream, and the hand grips are comfy as all get-out. I can drink while I'm riding because I don't have to unclip a carabiner from a tie wrap to get my bottle loose. *shaking head in wonder*
But the best part about my new bike? You'll never guess in a million years, so I will tell you: while I was test-riding the soon-to-be-mine bike, my hubby found one that was marked down to a very affordable price...one that was set up in such a way to allow him to ride without much weight on his hands, which are arthritic and extremely painful (the main reason why he hadn't ridden with me anymore). He is also the proud owner of a new bike, and we can finally ride together again. (He didn't jump up and down as much as I did, but did more of a manly nod of satisfaction...the manly nods work well for him.)
So we got to ride together on Friday and Saturday morning. Enjoying this with him just makes it that much more fun, and getting fit together is icing on the cake.
Here's to many more rides!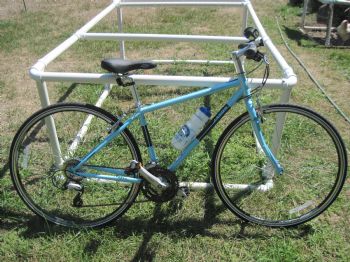 My bike, a Jamis Coda Sport.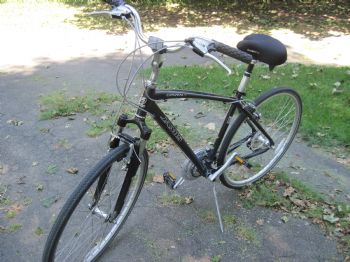 Hubby's bike, a Jamis Citizen 3.