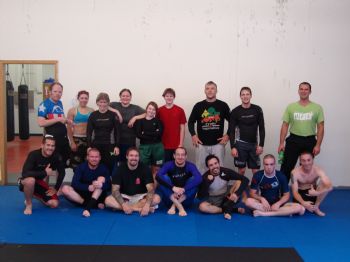 Group picture of Jiu Jitsu class taken Saturday. We had a record-breaking 4 women in class.
During Jiu Jitsu class this week, a couple of the guys were talking about how they admire women who do Jiu Jitsu. They said they understood how intimidating it must be to walk into a class for the first time. It's intimidating for a guy to start doing Jiu Jitsu, so it must be even more so for a woman. Then we proceeded to get manhandled and tap out constantly. Jiu Jitsu can be extremely discouraging and humbling at first, and continues to be both in waves throughout the journey.
Yet we keep showing up.
I appreciated that our guys conduct themselves in a way that encourages women to keep coming back to class. I haven't dealt with many problems at my gym, and zero problems at all with the "regulars." I appreciate not only that they don't act weird about women, but also that they are not condescending. My guys roll with me like they would any other person--going harder when I go harder, going easier when I go easier. It sure was intimidating as hell to start doing Jiu Jitsu, and I was nervous almost every day for the first 8 months or so. Now I really feel like I'm "one of the gang" and have a roomful of friends every time I show up. Not only can I hang with these guys, sometimes I even kick their butts.

I had a very fun week overall. Everyone in Jiu Jitsu was a little goofy this week, and very high energy. I made it to class 5 days and everyone was on fire, which means I got tapped out a lot, but also learned a lot.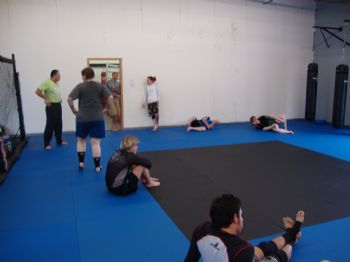 I was surprised to see how much leaner I look in this picture (I'm in the gray shirt walking away from the camera).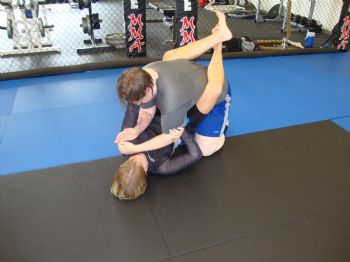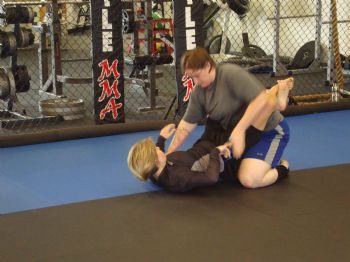 My classmate Cassie--at the beginning of summer when we started training together more, I thought we wouldn't get along. We've become good pals and training partners and I have watched her mature greatly.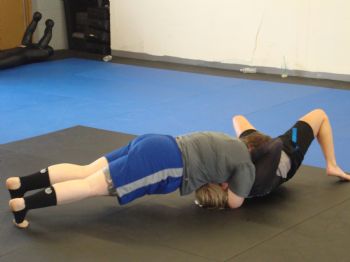 North-South Choke--if there was ever a reason to do planks, here it is.
I did 3 strength training workouts, which is my weekly goal. I also did a couple of Turbo Jam workouts, and I have missed doing those. They really help my abs. Yesterday, a friend of mine who hadn't seen me in a couple of months told me I was looking good. I do feel like I have a lot more muscle definition, and yesterday I wore a tank top that didn't fit me a few months ago. I am excited to see my body change over the next couple of months with consistent Jiu Jitsu training, regular and varied strength training workouts 3 days a week, and some cross-training. I have also been trying to do a 30-40 minute workout before going to the gym (provided I got enough sleep the night before), such as Turbo Jam, kettlebells, abs, or some combination thereof. I want to increase my aerobic capacity, so I am hoping that will help. I did a workout before the gym twice last week and it was great.
Eating was decent this week. I tracked consistently and am glad to be back to consistent tracking. Yesterday I overdid it a bit, between going out to lunch with some Jiu Jitsu pals and then going to a friend's for dinner. Overall, I only overate by a couple hundred calories, so I never worry about that when it happens 1 or 2 days when I'm training consistently. The scale hasn't budged in a while, but with my muscles becoming noticeable more defined, I will give it a few weeks before I adjust anything.
Now, all this talk about women and Jiu Jitsu is timely, as MMA star Ronda Rousey has been in the spotlight over the past couple of weeks. This woman is amazing--Olympic judo winner, mixed martial artist, and confident and strong. She is one of my current SHEROS. Goes to show that women can bring it just as much as men.
Have a great week, friends!