I have had my share of ups and downs since my last blog. Mostly I have been living life as a pampered princess.

DH has been incredibly appreciative of my ongoing weight loss. He had to go into work yesterday. For those of you who don't know, he is the IT Director of a the most luxurious hotel and spa in Boulder, CO, the St. Julian. He invited me to go with him and booked a spa treatment for me. I had a body scrub using fresh muddled mint, sugar, and essential oil. It was followed by an aromatherapy full-body massage using mint and lime oils. A mojito cocktail was waiting for me on arrival, and again when I was done. The spa suite was strewn with rose petals. It was pure heaven. He said when I lose more weight I can go again.

On Tuesday I went to Estes Park with my neighbor. We had lunch, browsed most the shops, then went horseback riding. I wound up on a very feisty horse that challenged my rudimentary riding skills. I am still feeling the soreness in my core muscles, and of course my butt hurt for a few days.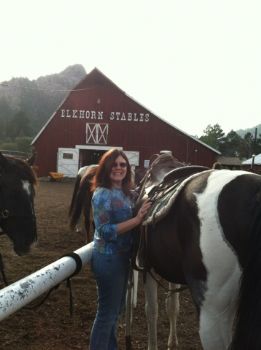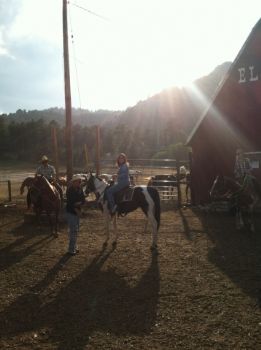 After the horseback ride we went to our hotel and got in the hot tub and soon after went to bed. We went out for a nice breakfast, then went and got henna tatoos. I was on strict orders from DH to not bring home any more "junk" so the tatoo was perfect. A souvenire that lasts long enough to keep the memory alive without cluttering up the house.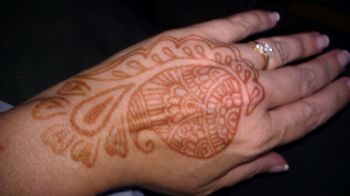 DH has been allowing me to indulge myself with periodic mani-pedis. I found a Spa where I can get a spa shellac french mani-pedi with a glass or two of wine for $50, which is a good deal for the Denver area. I did that on Thursday. Tomorrow I am getting a facial and Tuesday I am getting my hair done. So, as I said, living the life of a pampered princess.
Today makes 51 days without any shots for my migraines.

The bad news is that I wake up with bad headaches every day, along with a migraine about once a week. Some days all I can do is stay in bed. Still, it's progress. Sometimes the pain overwhelms and aggravates my depression. Yet I keep hanging in there with my diet and exercise and await the day that I feel truly good.
Southwest Airlines had a good two day sale that I managed to catch. I am going to visit my mom in Maine from Sept. 8 - 22. I really look forward to it as my migraines and depression remain relatively under control and shouldn't mar my visit. I hope I can lose 4 more pounds before I leave and maintain while I am gone. I will take photos this year.
That's most everything going on here. Just when I am starting to Spark again, I will have no internet access while I am in Maine. Hopefully I will come home rareing to Spark it up.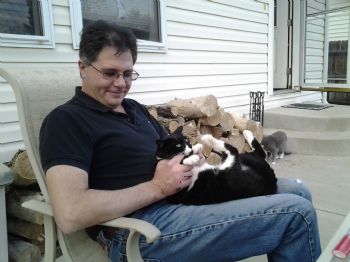 DH and Linus