My husband did a little office clean-up yesterday and came home with a CVS packet full of pictures from the cruise we took to celebrate me turning 40. I just had my 50th birthday last Sunday so these were direct 10-year comparison shots.
W.O.W. Unfortunately, I cannot show you folks the "before" shots but *I* have them, and they came at a good time. I was in pretty rough shape as I hit 40 years old. Ironically, there was a shot of me in the same formal gown that I wore on my recent college graduation/50th birthday cruise to Norway. Everything about me spoke to the fact that I'd utterly dropped the reigns of my life. I had not quit drinking alcohol yet, I remember I ate a really processed diet with salty/sweet snacks constantly and I looked flushed, bloated, PREGNANT - just a real mess. My skin looked bad, my hair had no life and I realize I was trapped in my own non-life! Thinking back, that was probably close to my highest weight, if not at that highest weight of 173 lbs on my 5'3" frame. These pictures showed me frowning and unhappy and miserable-looking by day (some are candid shots, not posed, so I could really look into the person I was) and the others show a buzzed, shiney-faced, bleary girl by night! I was stuck in a cycle that I thought I was destined to live forever.
I did break from that pattern, though. It took a long time, years. I buckled down for good in January of 2011. This july, I celebrated my first year of maintenance. It Is Possible!! Small steps will get you there, just as it got me here. Recently, I've been under a lot of stress. College graduation was in May and there are still no job prospects in sight. I am alone at home a lot of the time. Frustration is building and my will wavers at times.
I recently read a blog written by 4-A-HEALTHY-BMI regarding the Merry-Go-Round of weight loss/gain/loss/gain... you get the point. It's an excellent blog and I've passed it on to some of my friends. I'd like to link to it here as well. Weight loss is one choice at a time. Weight maintenance is also one choice at a time. We are in control.
www.sparkpeople.com/mypa
ge_public_journal_individu
al.asp?blog_id=5023938
While I can't show you the sad, out-of-control person I was at 40 years old, I can post a picture of me on my 50th birthday trip (you may have already seen this in my trip blogs). I am wearing the same formal dress, after debate at home as to whether it had simply gotten too big to bring and wear. I will be printing it out to have the before and after hanging on the fridge for days (hours!) when that little voice tries to convince me to stray off the healthy path.
The ride is worth it. We are in control.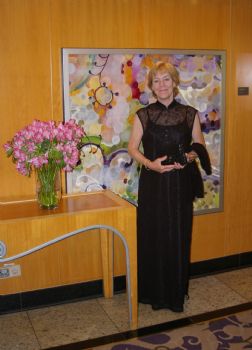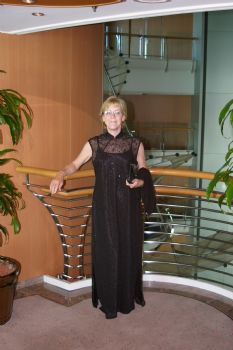 Melly