Grilled cheese in your toaster…
Thursday, August 23, 2012

I got a Sparkmail from my friend NEWCAZ who directed me to a sparkblog she thought I'd enjoy. As usual she finds the best of the best so of course I clicked right over and sure enough it was filled with all kinds of really cool info to make my life way better in every way. I loved the fact (yes I looked it up first and found out it's really true) that you can send any thing through the mail that weighs less than 13 ounces and can hold an address and postage WITHOUT a box!!!! I'm planning on sending a coconut to my grandkids just for fun…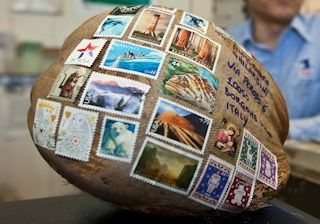 After reading SENATOR9's blog and commenting I got busy with other things and went about my day. I went to the kitchen to take my pills and saw our toaster just sitting there and thought, "Oh yeah, I wanted to see if you really can make a grilled cheese in your toaster."
Now the fun begins… bread, sliced cheese, toaster on its side… slide it in and fired it up. A little smoke begins to waif up and I fan it away with my hand. Then more and more smoke begins to billow out of every opening and I think hmmmm, maybe I should have cleaned the toaster first…. DUH!!!! But, I was already beginning to giggle over the whole experience and figure I wasn't going to stop now. HOLY SMOKES… talk about setting off the smoke alarm and getting my DH into the kitchen pronto. I was laughing out loud by now when the toaster gave up its contents and my grilled cheese flew 5 feet across the kitchen and landed cheese side down on the floor between my DH and I… we just looked at each other and I said "I forgot about that part!!!" By now I'm laughing so hard and there's so much smoke hubby even cracked a smile as he ran to turn on all our fans and open the doors.
I picked up the grilled cheese off the floor and took a bite.. it was great. Once the smoke cleared, the alarm settled and the toaster cooled I set to cleaning things up. I forgot about the greasy square on the kitchen floor where the cheese had landed and slipped in it. This just made me laugh even harder… that cheese bread brought me more joy than I ever thought possible. And now our toaster is spic and span, the kitchen floor is clean enough to eat off of and my DH and I add another memory to our sweet lives

Recap: Clean your toaster before attempting. Have an oven mitt ready to catch your creation and remember what you went into the kitchen to do in the first place

I'm off to take my pills several hours late... here's a link to the original blog… John really has some cool ideas over there.

www.sparkpeople.com/mypa
ge_public_journal_individu
al.asp?blog_id=5027610