I've been thinking a log about running lately. During the hideous heat wave we had this summer, my running focus was simply to endure--to maintain my goal of 15-16 miles per week and not to die while doing so!
I achieved that goal...I haven't missed one of my three weekly outdoor runs in many, many months. I kept running on our long family road trip and throughout the last difficult month since my Dad's unexpected death. I even ran in the morning the day of his funeral, and if that sounds strange, just remember that running is my best way to stay sane. I use the time to pray, to think, and to recharge my energy.
But now that cooler weather is just around the corner, I'm thinking about races a little more. I had really, really wanted to do the Buffalo Run again this year...it's a hilly five-mile run and I just loved it last year. I surprised myself with my time a year ago and I wanted to see if I could improve.
But my step-mom has scheduled her big moving day (leaving my dad's house on the farm and moving into a house in town) for that weekend. It's also her birthday and she has plans for all of us to get together. So, I don't think the race will work out and I'm really disappointed.
I also wanted to do a 10K (my first) this fall, but all of them seem to be on weekends that won't work for me. I've decided I like the slightly larger races more than the tiny 5Ks I've done. I like to be able to be lost in the crowd a bit and not feel like I will be the last person to the finish line! In the small town races, most of the runners are young and fast...everyone else doesn't seem to participate.
So now I'm thinking of skipping over the 10K and doing the 15K Governor's Run in late October with my BIL. I would probably do it run/walk, since my joints don't seem to like straight runs of more than 7-8 miles. I will have to get over feeling like I'm not a "real" runner if I don't run the whole time. I looked at a 15K training plan, and I think I would modify it to be a combination of the "novice" and "intermediate" plans. I'm already running the miles that the novice plan suggests; I'd like to get up to at least a 10 mile run before racing that distance.
In other running news, I'm going to get to use my new running shoes on my long run this weekend! When I graduated from C25K and started adding more miles, I went to a good running store and was properly fitted for shoes. It was the best decision ever. I wear the Brooks Adrenaline, and they are perfect for me. My past two pairs have been pretty muted, but this time I found the new Adrenaline 12 in black with neon. I like black because it doesn't show the soil. (I run on gravel and dirt and sometimes mud out in the country.) And I know they are cool because my 16-year-old DD saw them and wants them! She can't have them, though!!!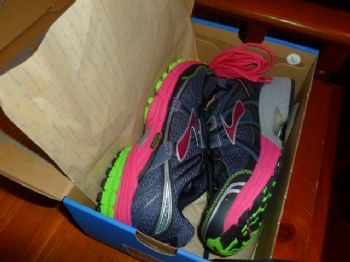 Aren't they cool?!
I'm not one to spend lots of money on myself, but I do pay for good running shoes every 500 miles because it's worth it to me to run pain and injury free. I'm washing the last pair and giving them to a friend who delivers shoes to a mission in Mexico...there are many children there who go barefoot to school and are thrilled to get shoes.
Happy Trails, Sparkfriends!