Lola is beginning to enjoy our evening walks I think.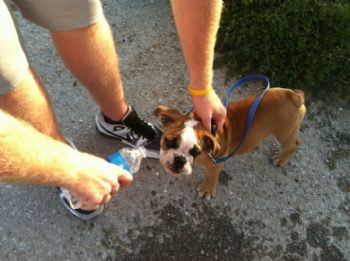 I remember telling son I couldn't wait until I would say to Lola, "Ready to go for a walk?" and she would get excited. Well we're there. Last night I said to her "Ready to go for a walk," and she was very excited. Of course I used my happy voice, I probably could have said, "Let's go to the vet!" in that voice and she would have gotten excited!
We have been going out every night after supper. Last night it was still pretty hot, I think it was 93 degrees when we left the house, but she does really well. I admit, I take treats for her and shake the baggie they're in periodically to keep her going. But we only stop about 4 times for the treats, and she just plugs right along. Son said she doesn't do so well when he tries walking alone with her, but then he doesn't take the treats. He always takes water and gives her a drink here and there, this is a picture of her getting a drink at my Rocky spot (the turn-around point). We want to go further eventually, but for now we're content doing the 1.2 mile round trip to the end of our road.
And on other fronts with Lola--we seem to have had a break through on house training!
Three mornings in a row, her pee pad from her kennel has been DRY! DRY!!! And no accidents on the floor. I keep expecting to find a wet spot on my carpet where she has been going and I hadn't noticed. Hope that doesn't happen. I read in our Bulldog book, that about 12 weeks, their bladder control gets better. Lola is 3 months old now, so we're finally making progress. She still likes to bite when she plays with us and we're trying to break her of that. I realize as she gets older, her need to bite and chew everything will hopefully go away, but she bites HARD. In fact I have a bandaid on my arm right now to cover one ugly spot where she broke the skin, and below it is another spot, she got me the following night!
It's amazing how fast you fall in love with a pet. My son and his wife have two Maltese (from the Maltese we used to raise), and a miniature Schnauzer, Toby, that his wife got when she volunteered at the Animal Shelter here in town. The miniature schnauzer has been having seizures. Of course they are both worried sick, and penniless until payday next week. Brady called me this morning, asking for a temporary loan so they could take Toby to the vet NOW. Of course I loaned him the money. Brady is so much like me. We always lived paycheck to paycheck. Even when we visited the doctor, we had to decide if we could afford it, so vet visits for our pets were few and far between. I felt so sorry for him this morning when he stopped by my office to pick up my check. His eyes were red. I know how hard it is to ask a parent for money (I did it a few times too over the years), and I also know how hard it is to see a sick pet and be unable to do anything to help. I wanted to give him a big hug, but I am at work, and I knew that would cause us both to break down. I see ways he and his wife waste money (I think they go out to eat way too much!) and sometimes would like to suggest they curtail that a bit, but I also recognize the very same behavior in him that I used to practice. It's hard to criticize something in a child when you see yourself reflected so much in their behavior.
Pets become family and worm their way into your heart. So I'm hoping their Toby will be okay, but seizures can't be a good thing and help for him might not be available. I have always recognized that pets, as important as they are in our lives, are not humans, but still it is hard to lose one. Prayers for little Toby would be appreciated.