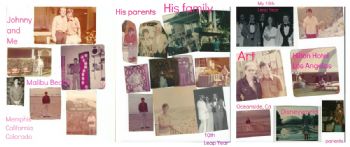 Awhile back I did a post on Johnny (and I wrote about him in my book, "Letting It All Hang Out") but I can't seem to find it and my diaries regarding our years have 'disappeared' so a lot of this is from memory. He was a country boy living in Covington with his parents and a sister 15-20 years younger than him--yes you read it right--and he was 11 years younger than me and not to forget that I was closer to his mother in age than I was comfortable with. I call our few years together 'The country boy takes the city slicker'. I'm not going into the whole story but will try to give a picture of our relationship.
Johnny without a doubt was one of the most artistic people I ever knew. When he moved in with me I never knew what the townhouse would look like when I came home because he was always redecorating it, each time better than the last. We met in a bar but he wouldn't come home with me when I asked him. In a sense I had to woo him which I did and enjoyed doing.
He wasn't making much money working as a window designer for Sears--or so I thought--and when we met I was having the money pouring in and didn't mind spending it. I paid for most of our dinners in restaurants though he did pick up a check now and then when we went to less expensive places. Our first trip together was on Christmas weeknd when we flew to Las Vegas staying at the Hilton. There weren't any good shows so I suggested we go to Los Angeles, rent a car and go to Laguna Beach, Hollywood and Malibu, which we did with me picking up the bills. Don't get the wrong idea as I didn't mind, I had the money, and it was fun seeing the places I was familiar with through his eyes. We went on a trip to New York, to see "A Chorus Line", which is an event I will never forget and it was also the beginning of the end for us. I was drinking to the point that I checked out of the hotel after a few days, paying the bills, fledbacktoMemphisviaAtlantawhe
re I lost a very expensive London fog raincoat. I arrived home in an ice storm and slipped on the steps leading to my place and busting my head open not going to the hospital until the next day after getting blood all over. Oh don't feel sorry for Johnny as I had left him with an 'old' man who I introduced to him at the Ballroom where we had gone to see Charles Pierce. It's a long story but just let's say that Johnny had a 'thing' for older men with money and I was getting low on the latter.
Johnny was a tremondous help getitng Our Weigh off on track by clerking at classes, expressing confidence that it would be a success and helping the women get to and from classes plus making whatever improvements needed in the office, meeting place and other locations.
The best thing I got from Johnny was a feeling what a family was. I spent holidays with his parents, sister and grandparents with the latter being very warm to me and laughing as I helped pick greens in the field. When I told his grandmother that I loved her turkey dressing she always made an extra pan just for me whenever we went there to eat. Holidays there felt, and looked like, a Norman Rockwell cover on the Saturday Evening Post. I experienced things I never experienced as a child and they allowed me to become one along with all the cousins running around.
We did a lot of traveling together separate from Our Weigh and when he could get away from Sears. I did not take a summer vacation in 1975 but Johnny and I did get to Disney World over the July 4th weekend and the following week I went to a TA seminar in New Orleans where I remember seeing the opening of the movie "Jaws". In 1976 I was back to taking my monthly vacation and drove to Duluth to see Ginny and her family stopping in Louisville, Cinncinatti, Indianapolis, Michigan City and Chicago where Johnny joined me for a few days. He flew back to Memphis and I went on to Milwaukee, Minneapolis, finally Dullth and then returned via Des Moines, Kansas City and St. Louis.
Before that trip was the gala 10th Leap Year birthday I gave at the Hilton in Memphis and his parents came. After that trip I made a couple of trips to Houston. On November 6, 1976, I came back from my trip to Houston to find out that Johnny had moved out. Did I forget to mention that the old man from NYC who lived in Canada came to Memphis to see Johnny? It was over after it was over but neither of us knew how to end it.
Still talking about Johnny but digressing a little--I did something with him that I never did before or since him. I was faithful for 6 months which is something I committed myself to and kept that committment surprising the hell out of me and I never told anyone. It was on a trip 7 months later, on a trip to Chattanooga, that I rationalized, "At least it wasn't in Memphis." For awhile I didn't play around at home but that would change and one after he came home to find me with Issac. He wasn't mad that I was having sex with someone else but that I was having sex with a Black man! Look it was the South, 1973 and that was what he was taught as a child. I am glad to say that by the time we split up he had changed somewhat about that and I always thought that he made it with Issac a couple of years later after that date. I know he had sex with Art when the latter came down and I always wondered if he eventually had sex with Bernie butthatwouldhavebeena spite bit on both their parts. And , oh yes, he had sex with Franco after the latter asked permission.
Johnny continued to work for Our Weigh after we split and he was there the day I left Memphis. He moved to Dallas with an older, wealthy guy and I understand he has been with another older guy the past 15 years. It is hard to believe he is now 65. Wonder if he is still as hunky looking as he was back then? LOL