Tuesday, August 21, 2012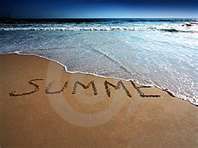 As summer slowly blends into fall, I am left with summer reflections.
My goal this summer was to see the end of the 200 and welcome myself to onderland. That has been a struggle these last few weeks. I am right on the cusp of breaking out of the 200(s). Last week I did not lose anything the week before put me oh so close. So I am hopeful that tomorrow, I will succeed in making it to onderland. However, If I do not I will not consider it a complete fail.
I have been sick over the weekend so I missed 2 workouts, so if I miss the mark, I have to remember what I tell everyone else life happens.
I did not gain anything during the summer challenge and all but one week I lost weight, so I consider it a successful challenge. My lime team has been the best. The are motivating and inspirational! You Ladies Rock!
Going towards the fall challenge I will continue my quest to onderland, I will continue, my body revolution program with Killian and my twin. I am currently in week 3 of a 12 week program so it will continue thru the fall challenge. I will continue to work on my 5k time, as the color run approaches in November! I am looking forward to the fall challenge with my lady limes. Lets Rock the fall.