Tuesday, August 21, 2012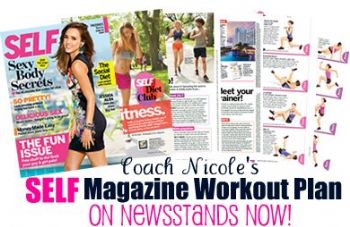 Good morning, SparkPeople!
I'm writing to share a fun and exciting update today. You may have seen this mentioned on SparkPeople or
my Facebook page
already, but in case you haven't, here's the big news!
I designed a workout for SELF magazine that's on newsstands now (the September issue). It features a kick-butt cardio plan and 16 tear-out workout cards (8 strength-training moves, 8 calorie burning plyometric moves) that combine together to form an awesome 4-week workout plan that is designed to help you drop 2 pounds per week (when combined with your calorie restricted diet, that is). The whole thing is supplemented online with email reminders, an online workout video and community support for everyone following the plan. All you have to do is sign up at
www.self.com/club
(it's free) to access the plan online.
I hope you'll check out the issue on newsstands, too. It was such a cool experience to create this workout with the editors at SELF, to be photographed for the exercises and the issue, and to develop a great plan with such a great partner. It's been a great experience overall and I am super excited to be able to share it all with you now!
OH, and
I'll be answering questions on SELF's Facebook page every TUESDAY from 2-3 p.m. (EST)
starting today through Sept. 25. I hope to see you there so I can answer YOUR questions about the plan, weight loss, and fitness in general. Just go to
Facebook.com/SelfMagazine
to post your question between 2 and 3 p.m.
Thanks so much for your support! I hope you enjoy the new workout plan!
Coach Nicole