Tuesday, August 21, 2012
day one is a success!
I set my timer for 15 minutes of decluttering and off I went. I picked the space in my kitchen near the telephone and on top of the radiator. Everything is GONE! Put away, thrown away, stored away. Out of sight.
The timer went off, and I thought to myself how easy that was. Of course it was only about four square feet of space! However, the momentum continued and as I started making lunch for the kids and packing snacks for our bike ride, I found myself organizing another corner of my kitchen. Another four square feet conquored while doing other stuff.
Our bike ride was pretty good. As I was loading the bikes on the car I realised I had a flat tire, but I grabbed DH's bike instead. We got to the park and rode 1/2 of the 3 mile loop and had a snack break, grahm crackers for the kids, an apple for me. The we finnished the loop and headed home.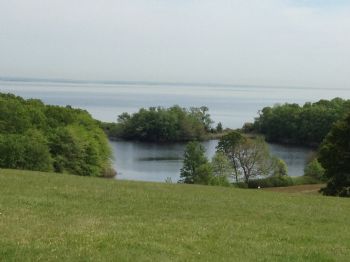 This is the view from our picinic spot.
I am up and showered and dressed and ready to set my 15 minute timer again. The kids have swimming lessons a little later so I am hoping to get a few laps in myself.

Happy sparking everyone, and happy flying for those who are inclined