I'm 65 pounds down and currently limited by my back problem. What to do to keep this train rolling? I've realized that I need to focus in on my food. After a couple months of not tracking, I'm back to it (going on a week) and aiming for 1600 calories a day. I had gotten pretty(read: very) lax on my sweets consumption so I'm hunkering down in that arena.
I went to the Illinois State Fair this weekend and DID NOT EAT ANY FAIR FOOD! My alma mater had an alumni tent event, so I was able to eat a decent meal there and skip all the sugary, fried fair foods. I found myself walking around, looking at the food stands, and noting the total lack of nutritional value different items had.
And guess what I just started reading: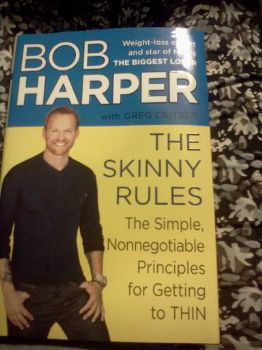 Bob Harper's Skinny Rules.
I feel like if I would have seen this book at the beginning of my weight loss journey, I would have found it too difficult. But here I am 20 months into my new lifestyle and a number of his rules are already a part of my daily life. The great thing about this book is that over half of the book is recipes. First, Bob lays out the rules and then he supplies 30 days worth of recipes to get you started on your new lifestyle.
I'm super excited that my husband has agreed to tackle this with me!!!
A few rules I'm focusing on until I get further through the book and start on the recipes:
Rule #1: Drink a large glass of water before every meal (easy for me!)
Rule #2: Don't drink your calories (done!)
Rule #3: Eat protein for every meal
Rule #15: Make you own food and eat at least 10 meals/week at home (oooh this'll be hard!)
Rule #18: Go to bed (slightly) hungry
I'm counting my back pain as a blessing in disguise as this point because I've really Really REALLY needed to focus on my food!