Monday, August 20, 2012
August Challenge:
Date: 8/16
Calories Burned: 782
Fitness Completed:
8 miles (leslie)
ST Circuit @ the gym
Date: 8/17
REST
Date: 8/18
Calories Burned: 357
Fitness Completed:
4.86 Bike Miles
ST Circuit @ the gym
Date: 8/19
Calories Burned: 513
Fitness Completed:
3 miles (leslie)
4.68 Bike Miles
ST Circuit @ the gym
Yearly Miles Completed: 1147.85 out of 1500
8/20 Weigh-in...265.4lbs!!!!!!
This weekend i went to go pick up some new clothes. My 24/22's were getting a little too baggy and my size 22 jeans were starting to sag on me. I thought going into it that maybe i've just stretched them out too much and they are just that way now. But while i was in the stores, i thought why not try a size 20 jean (same brand and style) and 18/20's for tops. Before i tried anything on i gave myself the pep-talk...it's ok if these don't fit. I'm just seeing how much more i have to go before they can actually fit. I figured the jeans wouldn't even go past my thighs and i figured the shirts would be awfully tight...showing all of my spare tires. I was a bit shocked when the size 20 jeans actually fit and zipped...AND buttoned!!!!! And the size 18/20 tops looked great on me!!!! Can this really be happening...can i actually be that close to getting out of the 20-something size jeans and tops?
So i did keep one pair of my size 26 jeans and i decided to take a picture of them to compare the difference...truth be told...in the back of my mind i never thought i'd be able to take a picture like this...BUT...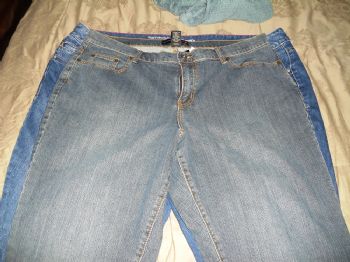 26 vs 20!!!!
I guess it makes sense when i think about it. I kill my lower body...i do so many walking/jogging/biking miles the thighs and legs are bound to get smaller, right?! I need to start really working on my core and upper body...so i took a picture...i HATE these type of pictures, but i need to know what i look like so that i can SEE what i need to chance...
This is me after losing 53.6lbs...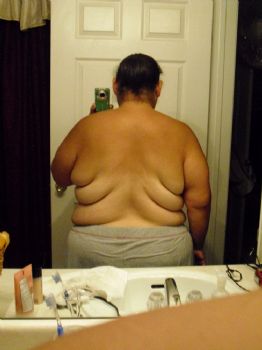 I am shrinking...and i know with time those rolls will start vanishing...
I leave for a work trip to Phoenix in the morning. I'm able to get a full workout in REALLY early tomorrow before i head over to the airport. I have scheduled walks and gym time on the hotel property...as long as a last minute meeting doesn't come up. I don't want to stop my streak or momentum.