I tried a pancake recipe this morning and these taste EXACTLY like blueberry muffins!
Here's the recipe:
Mix together in medium-sized bowl:
2 cups oat flour [or whatever flour you like]
1/2 tsp. salt
1/2 tsp. baking soda
1/2 tsp. baking powder
In another bowl, combine:
1 3/4 cups almond milk
2 tbsp. lemon juice
1 tsp. vanilla extract
1 tbsp. Ener-G egg replacer powder
1 cup fresh or thawed frozen blueberries
Mix the wet and dry ingredients together, and mix until just combined.
Heat a griddle, oil to prevent sticking [if needed[. Ladle 1/2 cup batter onto griddle for each pancake. Sprinkle a handful of berries into each pancake. When the batter begins to bubble, flip and cook on the other side until done.
Serve with "butter" and maple syrup, fruit, whatever you like!
Yield: 7 nice fat pancakes [You'll have enough for leftovers; I could only eat 2]
Here they are on the griddle!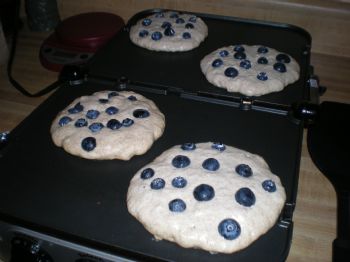 And here they are on the plate before devouring, with some extra blueberries, maple syrup and tempeh 'bacon'. Honestly, like blueberry muffins from a really fine bakery!