I finally worked out the kinks with my new time trial bike and took her for a spin, ride #2. I can sometimes be a little impulsive on my riding or anything else i do but that's just me. I know this wasn't the ideal thing to do since before doing a long ride you should rest the day prior but.....
yesterday i did one hour on the bike in the morning then 42 minutes in the evening the day prior to this long ride. not the smartest but sometimes i just like to unfurl the sails and let the wind take me wherever. The weather was perfect. 68 degrees and blue skies, low humidity...perfect.
I finally got the tire issue solved. At the suggestion of a fellow Sparker, I checked out Gatorskin tires. At $60.00 per tire, they were an investment for sure but WELL WORTH IT. Up here in the Upper Peninsula of Michigan, our best roads are pretty rough with lots of tire popping stuff so the extra durability was worth the price.
www.rei.com/product/6718
70/continental-ultra-gator
skin-tire-700-x-23-25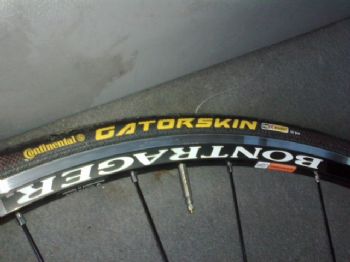 .
One quick call and a trip to the bike shop and I was on my way.
.
I was going to finally take this bike out for a real ride. I was wanting to see what it could do on it and how much I could push out. Sometimes I just like to find out where my limits are really at, to push the envelope. What's the worst thing that can happen? I just tune in to how I am feeling and I have a pretty keen sense as to about when I should turn around and head back and ration my energy accordingly.
Not the ideal way to train but i was more out for a joy ride than anything else....that was quite a joy ride...
.
I finally got the kinks worked out of my bike and got everything tweaked to be as comfortable as possible and boy did it pay off. I was very comfortable in the aero position and made some serious time.
In case you don't know what the aero position is..
.
also for those just tuning in, this is my new bike..
.
All packed up.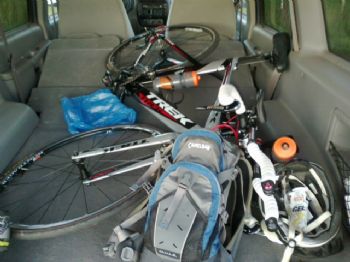 .
Fueled up..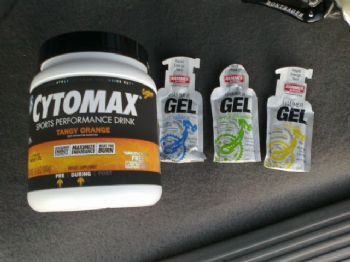 .
I also bought clip on shoes and pedals. they made a HUGE difference in my cycling efficiency! worth the price for sure.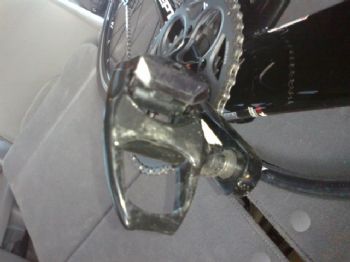 .
I got a headcover by Headsweats to keep the sweat out of eyes as well, also VERY WORTH IT! :)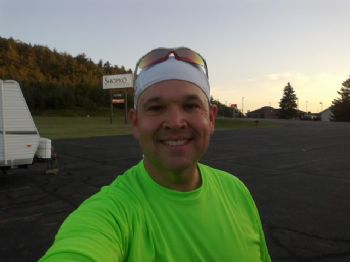 .
My final time on the Garmin..
If you cant read it, it is.. 53 miles, 3 hrs 30 minutes, average speed 15.1 mph..
not shown was the max mph on the ride. I took a hill in aero and got up to a blistering 35.7mph.
Felt like Anakin Skywalker in his podracer. :)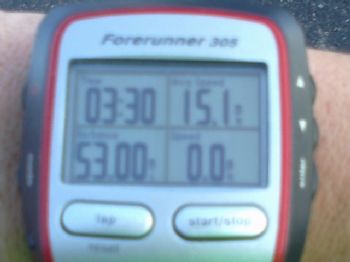 .
The thing that makes this such an epic ride for me is that 4 months ago, i rode 56 miles in the same hard core head wind and turned in a time of 4 hrs 38 min.
here is a link to my previous long ride where I posted that time..
www.sparkpeople.com/mypa
ge_public_journal_individu
al.asp?blog_id=4826390
based on this, a bike upgrade and some extra conditioning, in four months, i took almost an hour off of my time. If I did 53 in 3:30, 56 would have probably been in around 3:40 ish and WELL within the bike cut off time for a Half Ironman. If I could pull that off with just a minimum of training, what would I be capable of after a year of training and losing 30 pounds?
This was such a confidence booster in that I made the right decision in my bike selection and also my decision to pursue my Half Ironman dream.
I took in about 1000 cal on the bike and that may have been a little light on the fuel considering the distance but I fueled according to feel and didn't bonk.
I feel very natural on the bike and have always enjoyed cycling on an endurance level. I guess only another cyclist would understand the connection between man and machine and how it feels when it is a good fit. It feels like an extension of myself, to be one with the bike and flow with it.
.
Tonight I will go to sleep with a real sense of victory and deep satisfaction of knowing that my Half Ironman dream is just that much closer to reality. To know I can do it is a feeling money cannot buy.
I can do anything.
Now if you will excuse me, there is a plate of spaghetti calling my name and yes, the noodles are multi grain. :)