Friday, August 17, 2012
This is my 3rd week of sharing my calorie and nutrition totals. I've been having a vegan protein drink for a snack every day, and that makes it much easier to meet my protein needs. I think it also frees up calories for some less healthy choices.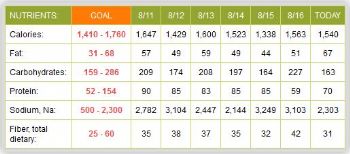 I paste the numbers into a simple spreadsheet, and I can see that my averages are similar to the week before. I was, however higher for protein (my PureGreen drink), and higher for sodium. I'll have to keep that in mind in the coming week, and find better choices.