Thursday, August 16, 2012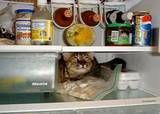 This morning I cleaned out the crud from my fridge. Oy -- scary! There was some stuff in there that I think could talk. In the back of the bottom shelf I found a piece of string cheese that had been there for TWO AND A HALF YEARS. I know this because that's the last time I bought string cheese. We won't even discuss the state of the crispers. By the time I was done I had a huge and VERY heavy trash bag. The stuff in the bag would be fruit fly Heaven, so I removed it on my way out.
Things are so crazy at work. They're introducing a new computer system, and so far it's a disaster. And we have so much to do. We're running and running and running and not getting anywhere. My boss comes back from vacation on Monday and I know she's going to rag me about why I didn't have more done. I'm getting very discouraged, and I know I'm not the only one. Oh, well.
I'm watching Chopped right now and I need to go make some dinner pretty soon. I'm really tired.