Thursday, August 16, 2012
so i blogged earlier or a few days ago about my poor pooch and how he wasnt acting/feeling too good. well, he got better. much better in fact. however, today i come home from work, aaaand he is falling over every few steps, and he is walking like he is drunk.
not taking anymore maybes from my parents i call the vet, have her double book the vet, cuz we are getting in as of right now to get him checked out. no more delays from my parents. mom gets home and i tell her we have to be to the vet in 30 and to grab his leash while i put him in the car. she tried everything in the books to avoid going, ....until she saw him fall over twice in a row within a few seconds of each other.
we get there, the vet pokes around, asks questions, etc. love our vet, we have used him for almost 20 years now. he says one of the reasons he is so wobbly is he only has 1/3 of the muscle left in his legs. (that explains his rapid weight loss) then he notices tigger's eyes are 'ticking' rapidly to one side. looking him over further, watching him walk, he notices he is leaning to once side heavily and tilting his head continuously. he then says he is an optimist, and prescribed meds for inner ear infection. he did say, however, that he has had 5 total cases of this particular behavior, and 4 of them were brain tumors. dog brain tumors are unfortunately always malignant, never benign, so there is nothing you can do for them.
so, we went with the optimism. he said after we are done with the meds we will know whether or not it is indeed an inner ear infection or a tumor. im scared. so cross your paws for puppy. its too soon for him to go yet. he has alot of healthy happy bouncy years left that i dont want stolen from him.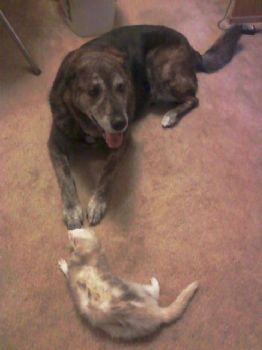 tigger and my deceased dearest ferret, haji.