Thursday, August 16, 2012
I added nine photos to my Sparkpage today... Anyone who knows me, knows that is no small thing. I always have the camera to avoid being in a picture. I've been that way since I was a skinny little girl and it only got worse as I added pounds. Years and years of my life have gone by where I have no record of how I looked. I literally feel ill when I see a camera pointed in my direction and it's something that's been on my list for change.
I'm determined to start adding pictures to my life...pictures of me. I'm not waiting until I lose a few pounds or waiting for just the right picture... I'm posing!
Last night, I bought a bike. It's magnificent! It's a coaster bike which means it has one speed and you have to back peddle to brake and that's just my speed. This afternoon, I think I shocked the crap outta my hubby when I dragged him outside to snap my picture with my bike. He's so used to my ducking out of pictures or grabbing the camera.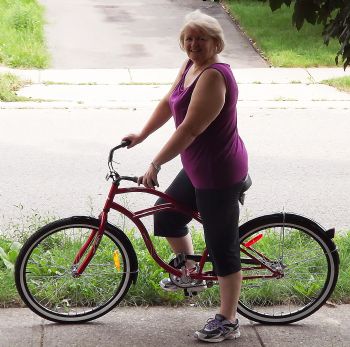 There are so many aspects to changing your life. For me, some are easier than others ... Changing my diet...easy, starting to exercise for the first time in my life...easy, having my picture taken or (shudder) sharing my picture with ANYONE...so hard!
One of the pictures I added was especially hard. It's a picture of me at my very heaviest. I don't know what my numbers were because a scale was to be avoided but I do know that I was unhappy at that weight... movement was so hard and I frequently felt ill. If I were to guess, I'd say that I'm at least 50 lbs lighter than that now. I'm bubbling over with energy and today, I went for my first bike ride since I was a kid and I loved it! Tonight, I'll be going to aquafit an hour early so I can play in the water before our pretty intense 45 minutes of aquafit and tomorrow, I'll be walking at least a mile because I have a goal of walking five miles a week. The person in that picture got winded climbing one flight of stairs and couldn't walk and carry on a conversation because it was too hard to breathe.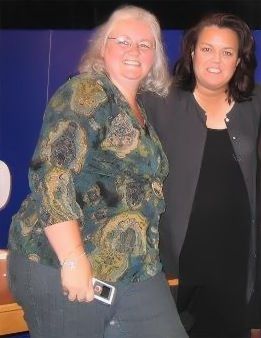 My "before"
I'm so happy and feel so healthy right now at my during stage. I refuse to wait until I'm an "after" to start living....I only wish my "before" would have known what I know now :) moving is so much FUN!!!