Peeved with myself - I was going to write a blog about last week's beach trip, but all the photos are on my phone, and my tether to get them onto the computer is sitting on the kitchen table. No help at all! So, instead you are going to get a ramble of my personal life stuff. I DO promise to give you a hiking blog with photos tomorrow.
Middle sonís wedding is coming fast. I MUST start to think about a dress! Iíve gained so much weight that I donít see being able to fit into ANY of the vintage dressed I bought earlier this year. This one may be possible, but I wanted to wear something a little more striking.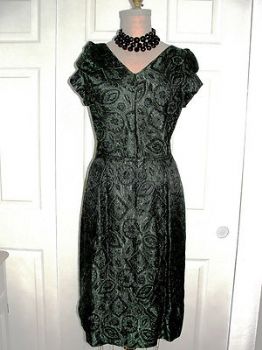 Long Beach half marathon and Girlfriends Half marathon are also coming fast. I am hoping to be able to run 5 miles without a walk break by Long Beach. There is no possibility of either of them will be a PR, but both of them are going to be SO much fun! Long Beach will be AKAShelly's first destination race, and we are going to have a blast! Then only a week later, Girlfriends Half!
Mr. Friday, who shall hense forth be known as Mr. Nike (No, I am NOT dating him because he works for Nike) invited me over for dinner again last night. Oh, My! Chicken and lots of fresh veggies on the grill, freshly made hummus and pita for a starter. Very Yummy!
Mr Sunday has been gently released back into the stream. The more I thought about him, the more I realized we had almost nothing in common, and there just was no spark of any kind. If I learned one thing from the xbf, it is that I will never leave a man hanging who I feel no connection with. Gah...I so wish I'd learned all these lessons when I was younger!
Tomorrow, look for the next installment of As Robin's World Turns.
(do you really think I'm starting to sound like a soap opera????)