So I thought by now I would be back to normal as far as my knee issues. But it is not happening. Yet. I am sure it will get better. Still have a lot of stiffness in my knee and ankle. No more swelling and pain is way down. Not bothering me to the point of keeping me up at night anymore at least. During my walk this morning I did try running again. Not as painful as that last time I tried but after about a half mile jog I could feel that pain in the back of my knee creeping up on me so I just went back to walking. Will keep giving it time.
But it is definitely not stopping me from meeting my goals. Last week I did great just walking, weight training and keeping my calories in the right range for me. Right around 2300 every day except Sunday. I know the weekends are always hard and this weekend was no different but I was prepared to make good choices and just eat clean foods in portions I like to enjoy lol. So I did. And the only empty calorie junk food I had all weekend was a few of the kids fries. And the most important part or at least the part I am most proud of is the fact that I resisted joining hubby in unwinding from the long weekend with a drink! I stuck to my plan and said no thanks to hubby. I made his favorite margarita on the rocks and did not take a single sip.
It really was a long weekend. My son David plays with his cousin on the same soccer team and his younger brother also had a tournament this weekend so we also went to some of his games! At least the ones that didn't overlap with our teams. It was 7 games total. Starting Friday afternoon then started again early Saturday morning then the last one at 3pm went overtime they each scored one then to penalties lol! (this one was my nephew's team he is 10) But after all that luckily they won so we did get to celebrate at the end. Made it home after 6pm on Sunday so happy to be out of the sun. Next one is in two weeks so this coming weekend will be busy catching up on stuff here as I am always talking about we have many projects unfinished here and there...
Any way so to start the week I set out to beat last Monday because after totaling my week I came short of the 3 hours of st I wanted to get in... By about 15min!
Last Mon 4.5mile walk and 50 min st calorie burn total 958
This Mon 5mile walk and 62 min st calorie burn total 1214
So that starts off the week for me on a very good note.
Today I totaled 5.5 miles because of that half mile jog. Then I decided to do yoga. Witch is something I tend to neglect doing since it does not burn as many calories but I know how good it is for me and I know it could really help with my knee and hip problems so I did Bob's yoga for the warrior from his inside out method. I did all of it even the laying there breathing part witch I always skip because it feels like such a waste of time. And it was so funny how he said this was the hardest part for some people to do... LOL that is me. Very hard to just stop and do nothing when I have so much on my to do list! Just doing yoga over more strength training was hard for me.
Just look at the difference in calorie burn from one hour of yoga today and one hour of weight training yesterday even without plyo moves!
Yesterday doing weight training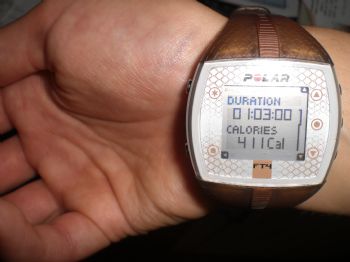 Today doing yoga
And to finish a little snap of some meals.
My breakfast and lunch today!
Breakfast was the same little mix of plain greek yogurt plain kefir and strawberry whey I just stired together then I topped it with leftover fruit salad I had in the fridge with some raw cashews and walnuts.
Lunch cabbage cactus salad (also leftovers a side dish from last nights dinner) some radishes and avocado slices and a salmon patty (I made the boys salmon burgers)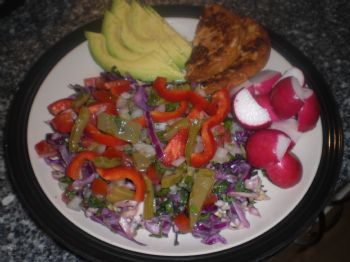 Lost three pounds since last Monday. Let's see how many I lose this week ; )!