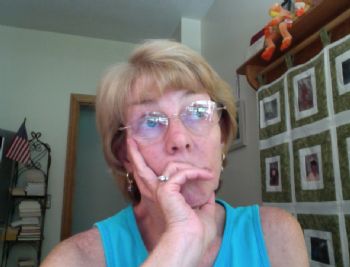 Well, that photo from yesterday just about sums it up!
I was fooling around with video since I hadn't posted a VLOG in a while, and got one put together, but the pop-up to enter the info isn't letting me do it! Perhaps it was better left unsaid, at least in video format.
What can I say? I spent 20+ years as a quality assurance engineer and got laid off in the summer of 2010 and went back to college to pursue Health Information Management. I used a state program that allowed me to collect my unemployment while I got a two-year degree, yet that same state program did not let me swap into my degree of choice once the wait-list emptied, as I was assured I could do. So I have a beautiful, General Healthcare Studies degree and have not been able to get a job in medical administration!
I am working hard at my Certified Professional Coder credential, but I can't seem to get a single call back on any job. I met with the career counselor on campus who says the market is so glutted with people looking for work that, if you do not meet each single requirement, you WILL NOT get that call back. Forget about hospitals hiring until after the election, etc etc....
We are fortunate that DH has a job and insurance but we need the second bread-winner in this family, and my savings are depleting fast. Really trying hard not to fold like a lawn-chair in the face of all this stress.
My last blog was titled "Keep Pushing... more than an emoticon!" and, boy, that's all I can do. I am staying active with my Sparkfriends, several really great teams, and two challenges. One is the MOB (Mother-Of-the-Bride) challenge with two Sparkfriends, one of whom will be the "MOB" in early September! We are working hard with her to push through till the big day, and keep ourselves motivated. The other is the Columbus Day challenge with the At Goal & Maintaining team. It's a 10-week "do not deviate +-3% from your maintenance weight" challenge. These activities are keeping me going when I feel like I could crawl into a hole. They are keeping me from eating through the stress. Now, if they could only help with the crying jags, my DH would be thrilled!!
So here's to us all: Keep Pushing!!

Do Not Stop! Fight for it!

Here's a picture of me, today. This is my 2nd "Interview" haircut. I had the 1st one eight weeks ago. I am hoping and praying that I will actually get to put this hair (and brain, and talent, and drive, and motivation) to USE!!