I had lunch with my boss this afternoon. As always, it was wonderful. I'm so blessed to have someone working above me that truly cares about my success in all areas - personal, family, career, running, everything.
Today, I was nervous. Because I knew there were issues that we needed to discuss where my performance on the job had not quite met her expectations. To be fair, she could have reamed me. But, she didn't. She was kind and understanding. Firm and clear about what needs to change (and she was 100% right), but never cruel or demeaning. I've never worked with a boss that handles situations like this so well. She's something else.
One thing we talked about was my professionalism. She is one of the most professional, confident women I've ever met. Watching her do her thing (which is, incidentally, "schmoozing" the big dogs at colleges and universities) is just fascinating. I asked her for tips on how to...well, be more like her. She said, "I know there is a deep confidence in you and I see it when we meet one on one. But, when we are in meetings and networking gatherings, you shrink back and I don't know why. You need to put your confidence out there and own it."
She's right, you know. I've talked about my insecurity in the professional realm in a previous blog. It is, by far, my biggest challenge at the moment. And it made me think...
Yeah...I DO have confidence inside. Remember my blog yesterday? I'm FIERCE. When it comes to my personal life, I really feel like I'm getting a handle on some things and that, naturally, brings confidence. But, when it comes to my outward persona with co-workers, it feels like a whole different story. And I wonder if it's related to my weight issues and the low self-esteem that comes along with them?
Here is a picture of me my junior year of high school: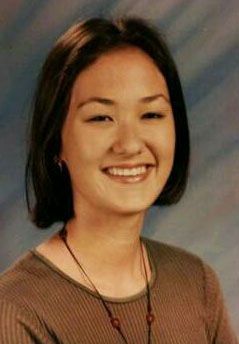 I was not an athlete. I did not pay attention to my food and, frankly, I ate anything I wanted and ate a WHOLE lot of junk. It just didn't stick to me. I wasn't overweight until later on in college and, obviously, when I started to have kids. I wasn't one of those kids that was fat my entire life. Being overweight, and then obese, was completely unexpected. I never, in my wildest dreams, imagined it would be possible for me to get to where I am now...over 200 lbs.
How did THAT girl become THIS?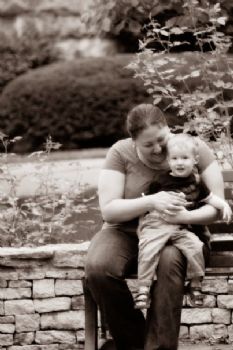 Granted, that is an absolutely BEAUTIFUL photo of me and my son. But, you can see a difference from what I used to be.
Back when I looked like the girl in the first pic, my Mom (a tiny, 5 ft tall 100 lb Korean woman) said to me one day, "Leah, never ever get fat and frumpy. No man wants a frumpy wife. He will say he loves you no matter what, but on the inside, he'll be disappointed and he won't find you attractive."
WOW. Can you say ISSUES??? Yeah...you can BET that has caused some DEEP problems in my marriage.
So, this skinny girl goes to college and goes nuts with food and never exercises and gains 20 lbs. She comes home from college and her Mom says, "You are getting so fat. Be careful because....no man wants a fat, frumpy wife." Thanks for reinforcing that message, Mom. Especially since it hadn't already scarred me the first time!
Once in college, when I had gained 20 lbs (to bring me up to a total weight of 140 lbs), I was freaking out about my weight gain and, naturally, crying to my boyfriend about it. He said, "Leah...this is ridiculous. You look fine. Think about this....how heavy do you think you're going to get?" In a burst of sobs, I wailed, "Probably (sniff, sniff) one..SIXTY! Waaaahhh!" Get this...he LAUGHED and said, "You're never gonna be 160!" OUCH.
Mmmmhmmm. Then, when this not-so-skinny girl was pregnant with #2, she called her Dad on the phone and told him that she had officially passed the 200-lb mark. Instead of telling his 8-months pregnant daughter that she could lose the weight after the baby was born, he basically went ballistic, shouting, "Oh my GOD! That is SOOOOOOOOOO heavy! OH MY GOD! TWO HUNDRED?!" Yeah...that didn't help the old confidence.
So...I can see where my confidence went bye bye a long time ago. I mean, if this is what my PARENTS see....people who are supposed to love me unconditionally...what do I expect pure strangers to see when they first meet me? And do you think I'm going to be great at walking up, making eye contact and confidently introducing myself? Nah.
This is not a whine-fest, though. Because I HAVE changed. I've long since dealt with my parental issues, so their negative messages do not cut nearly as deeply anymore. Of course the effect from those wounds lingers on, but now I am able to see clearly when this is happening and work to fix it. This is all a person with a wounded past can do...take it one day, one sitaution at a time. And, as time passes, it gets easier.
My entire life has changed over the past few months. It hasn't been just physical...it has been emotional and mental and spiritual. A complete overhaul. I have SO much more confidence than I had even back in February of this year. YOU are a part of that. You guys give me confidence every single day.
And that's what my boss, Jennifer, is talking about...she has seen this change in me. She knows that I possess it within. She is just asking me to show it to everyone else.
In the meantime, I am interested in faking it until I make it. So, if I have any seasoned professionals in the business world that read my blogs, help a girl out. Give me some BASIC tips on how to exude confidence in a networking setting.
For instance, Jennifer's idea was this: when I meet someone, give them the firm handshake, look them directly in the eye and say, "Hi so and so, my name is Leah Drichel and I am the Fiscal & Administrative Manager for the Kuali Foundation and I really wanted to meet you." Her tip was: imagine they really WANT to hear what you have to say. (Cuz...they actually probably DO! Haha).
Any help would be greatly appreciated!