Tuesday, August 14, 2012
I can't believe how great I feel !!!!
Yesterday and today I bounced out of bed feeling raring to go. My energy level is out the roof! I went to Zumba yesterday at 9 am and the ladies said I looked like I lost weight. I know I've lost the bloat I've been carrying around the past few months but I have stayed away from the scale. I'm not even the least bit tempted to get on it.
All I need to know is that I'm 100% compliant with my program and the results show up in my mood, energy level, and how my clothes fit. The scale has so often derailed me, and it really doesn't tell the whole story so why even bother with it? I'll weigh in after the 30 days just out of curiosity and by then my habits will have been firmly rooted so I don't have to deal with any disappointment (although, I have a feeling I won't be disappointed).
It's definitely been worth the misery I felt for the first 7 days....the crankiness, the anxiety, the cravings, the fatigue, the depression & anger & even resentment. I noticed yesterday that IT'S ALL GONE. Today feels even better. Because I've been away from the toxic foods and I eat 3 meals with no snacks, I truly enjoy my meals. They taste so good and they satisfy me until the next meal. I think this will only get better as time goes on. I may even get to the point where I don't mind if the food is around me and everyone else is eating it (I don't think I'm quite there yet, although I do have enough motivation to abstain).
I am ready to change my life and not have food or weight be an issue again. I am deeply committed to making these changes permanent.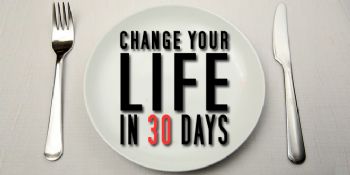 How 'bout giving me an internet high five