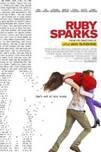 Being a sucker for love stories I have sat through a lot of raved about films, which will remain nameless, the past couple of years but today I got suckered in big time by "Ruby Sparks". This film is a well acted, what could be a complicated screenplay but isn't and direction that asks you to just sit back and believe and believe I did.
The movie starts as a fantasy when a one big hit writer, Calvin (Paul Dana), is told by his therapist, Dr. Rosenthal, (Elliott Gould) to write a story about the woman he has been dreaming about. His heroine is named Ruby Sparks (Zoe Kazan) who appears to him one day as he is walking his dog Scotty, named after F. SCott Fitzgerald, who squats when he urinates which disturbs Calvin more than anyone else. Ruby is the perfect woman, just as he has written her, and he is overjoyed when other people like his brother, Harry (Chris Messina) can see her too. To prove to both of them that she isn't an illusion Harry suggests that Calvin sit down and write some quirks, like speaking French, into her character and, yes, Ruby starts to speak in French.
Along the way, reluctantly, he brings Ruby to his mother Gertrude (Annette Bening) and her partner's Mort (Antonio Banderas) house in Big Sur both being hippies still smoking pot and growing everything healthy. and they fall in love with Ruby.
Calvin is a man and has to be in charge and, though he has made the perfect woman, when she has a pass made at her by his editor, Steve (Langdon Tharp) the jealousy comes out and he starts to change her with things going downhill from there.
Yes, once again you are asked to put aside your logic but that is what movies are about: dreams, fantasies, being a puppeteer, seeing life as you want it to be not as it is. And what is illogic about a man changing things when they are perfect?!
The acting by the leads, Paul Dano and Zoe Kazan, couldn't be better and Chris Messina as his brother is pitch perfect. The 'old' pros like Gould, Bening and Banderas, though it took me a few minutes to recognize the latter, light up the story and the screen in what are, basically, bit parts.
The direction by Jonathan Dayton and Valerie Faris has a smart rythym about it while the screenplay by the actress Zoe Kazan makes you feel for both characters even when you might think Calvin is blowing it. This is a love story for adults without the off color remarks or supposedly body jokes most films feel they have to have today. There is humor, tears, touching of the heart and the feeling that all our stories are always being revised by an unknown writer and we are just their puppets. This is also one of the few movies lately that has an excellent soundtrack moving the picture along but not interfering or overpowering it.
Sadly the last minute of the film stops it from being a perfect movie but then if you are a romantic how else would you want it to turn out?
"Ruby Sparks" is R rated for some drug use, pretty mild 'offensive' language and sexual references. but there is nothing in this film to shock or offend a teenager but it might help them believe in love.