I subscribe to a healthy number of blogs that I read on a regular basis, and one of them led me to this post, titled "Real Beauty vs. the World's Beauty":
kareywhite.blogspot.com/
2012/08/ive-got-two-daught
ers-who-will-have-to.html
. Feel free to read it if you like, but it's not necessary (although it's a good read for anybody with daughters).
I was struck by the second paragraph, which I'll quote here:
"I was going to add a picture to this post. I Googled "thin supermodels" because I wanted to be fair. I knew if I Googled "anorexic supermodels" I'd get an unfairly skinny assortment of girls. What I found was still shocking and it made me sad. I found girls who have traded health and vitality for a super skinny body."
I decided to do the same thing, so I could know what she saw, and the results were astonishing. (Go ahead and do the Google. I'll wait.) If you didn't do the Google, the results that come up aren't just shocking, they are horrific: image after image of emaciated women who are glorified for their literal skin-and-bones appearance.
But ... there was one image that spoke to me, nestled amongst these images of ridiculous faux-beauty: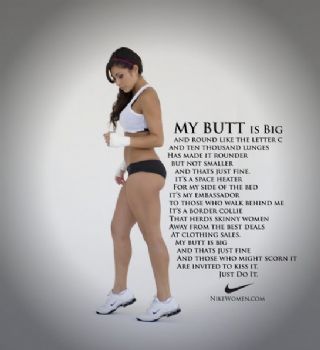 (Here's another link to the pic, which is bigger and easier to read:
www.adrants.com/images/n
ike_my_butt_is_big_2010.jpg
)
This is what it says:
"My butt is Big
and round like the letter C
and ten thousand lunges
has made it rounder
but not smaller
and that's just fine.
It's a space heater
for my side of the bed
it's my embassador
to those who walk behind me
it's a border collie
that herds skinny women
away from the best deals
at clothing sales.
My butt is big
and that's just fine
and those who might scorn it
are invited to kiss it.
Just do it."
JUST DO IT! "
Reading the text, this photo literally SPEAKS to me. I know it's just an ad ... but to me, it reads like poetry, a love song to her body. This woman, SHE is the real beauty on this page. She is curvy, strong, and confident. She works hard and tests her personal boundaries every day. She's my inspiration. I want to be like her.
Her picture is now the background on my phone - so I have a constant reminder of what I'm working towards. When things get tough and my dedication wavers, I can look at this and see what I can achieve. If she can do it, so can I.