The Coolest Olympian: Sarah Robles
Monday, August 13, 2012
Weightlifter Sarah Robles.
I often feel out of place calling myself an athlete. This isn't as much the case as it used to be, but sometimes I feel like I'm in a game of "Which One Doesn't Belong?" Granted, I don't feel like I'm treated this way (at least not anymore), but I still feel a bit awkward in my martial arts classes. I don't often see other big martial artists, especially women. I do my best not to show how awkward I feel with all of these very trim athletes I train with, but sometimes I would like to see another serious athlete who also happens to be very overweight.
I didn't follow the Olympics terribly closely, but I did follow the journey of American weightlifter Sarah Robles. She weighs 275 pounds and has been touted as "the strongest woman in America." I have never adored an athlete more in my whole life. She persisted through training with little sponsorship, the ultimate in "if you want it, go and get it." She placed 7th when she competed on August 5th, and I am very proud of her.
I also love her because she makes no apologies for her body size. Sarah has advocated that fitness wear manufacturers produce clothing to fit every athlete. She has been outspoken about the fact that athletes can come in every shape and size. I look at her and I see a bit of myself (not that I'm an Olympian, though!), and I am grateful that she has come to the forefront. I think this is just the beginning for Sarah, and I can't wait to see more.
Check out her blog here:
prettystrongblog.blogspo
t.com/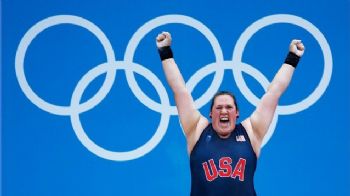 Image from
thinkprogress.org/politi
cs/2012/07/09/512231/why-n
ike-should-sponsor-olympic
-weightlifter-sarah-robles/
; I would recommend reading the article, it talks about how Sarah deserves major sponsorship.