................They're all in my lunch!!!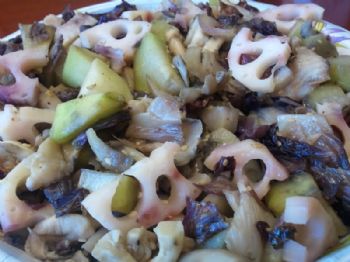 k....these are some interesting and different items. I also added radicchio, ginger, sesame oil, and toasted sesame seeds and cooked it up. This was actually inspired from another sparker who was talking about lotus root. Always looking for something new to try so I thought...why not!! Many of the other items were things I've tried for the first time in just the past couple of years.
Oyster mushrooms -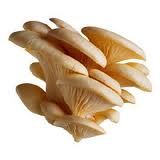 I've had these before but don't think about them often enough. I love the texture and flavor. "They look very similar to oyster shells, hence the name; some also find the taste similar to oysters. In the wild, oyster mushrooms grow on dead trees. They are cultivated commercially and are easy to grow. Oyster mushrooms can be used in many different recipes. They are nutritious and have been demonstrated to reduce cholesterol."
Chayote Squash (pronounced like coyote but with a ch sound)-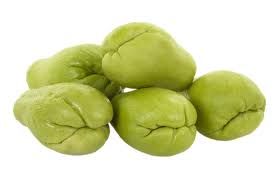 I had this the first time in Belize. It's very similar to summer squash and has a mild, but almost sweet flavor. Really like it a lot. The end always reminded me of the cabbage patch dolls! "Originally cultivated by the Mayans and Aztecs in pre-Colombian times, the food was introduced to Europe by the early explorers. Though most people only eat the fruit, the stems, roots and seeds of the plant are also edible, and can be used for culinary and medicinal purposes."
Taro
I LOVE LOVE LOVE this. It looks really weird on the outside. Brown and sort of furry with lines. You peel it like a potato and that's also what it looks like inside. The texture is a little firmer than a potato when it's cooked and it's also sort of buttery. I will add it to cabbage and steam it all together frequently. They make poi out of taro and I can't stand poi (poo-ey on poi is what my taste buds say), but when cooked like this it's wonderful! "Taro is a tuber, similar in some ways to sweet potatoes. Taro is a tropical and subtropical plant, perhaps best known as the ingredient in poi, a traditional Hawaiian dish. Taro planting and care is fairly simple -- given the proper climate and conditions, you can grow taro successfully in your home garden."
Radicchio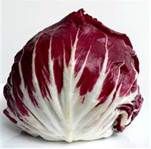 "Radicchio is known for its somewhat bitter taste and purple color. Belonging to the same family as endive, radicchio is a hearty lettuce. Radicchio actually benefits from grilling, because some of it's strong flavor will mellow. "
Lotus root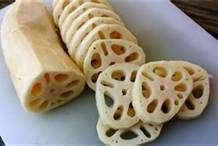 So this was the first time I've eaten lotus root. Not a ton of flavor but great crunchy texture. Reminded me a little of jicama. I purchased some that were already steamed as my time was short, and just added it to my stir fry. I think it's common to fry them. "Lotus root refers to a porous rhizome often used in Asian cooking. The root grows underwater in ponds or flooded fields and contains high levels of dietary fiber and vitamin C. Lotus root makes a starchy, crunchy addition to stir-fries, sautes, soups and steamed dishes. However, lotus root spoils quickly, especially after it has been cut open and exposed to air."
Achva Tahini Crushed Sesame Seeds, 0.33 tbsp - 31 cal
Chayote Squash, 170 gram(s) - 32 cal
Oyster Mushroom, Raw, 227 gram(s) - 91 cal
Taro, 113 grams - 127 cal
Radicchio, 2 cup, shredded - 18 cal
(C) Oil, Sesame Cold Pressed (Loriva) , 0.33 tbsp - 43 cal
lotus root, 2 serving - 80 calories
TOTAL 476 CALORIES
http://www.ehow.com/info_805
5674_oyster-mushrooms.html
http://www.ehow.com/info_869
4817_chayote.html
http://www.ehow.com/how_8205
085_grow-taro-root.html
http://www.ehow.com/info_823
3807_lettuces-can-grilled.
html
http://www.ehow.com/how_1223
0862_tell-lotus-root-gone-
bad.html